Of course we want you to have fun at your own wedding. There are probably 50 to 250 more people who are also choosing to spend five-plus hours with you, so it is important to keep their comfort and enjoyment in mind. So here's how to ensure that yours is the most fun wedding reception your guests will ever attend — trust us.
1. Keep your guests comfortable.
The No. 1 enemy of fun? Discomfort. Case in point: If your guests are sweating to proverbial death at your outdoor reception or getting eaten alive by mosquitos, they might not enjoy the signature cocktails or epic dessert bar you so carefully crafted. Consider what your guests will go through at your wedding.
For example, if you're hosting an outdoor fête with a chance of serious heat on the side, consider greeting your guests with cold lemonade or tea. Conversely, winter wedding guests would love a cup of hot cider or cocoa when they arrive. A basket of flip flops near the dance floor is a much appreciated gift for your guests' tired, dancing feet. And be ready with amenities in the restrooms full of items that your guests might need including mints, safety pins, and a sewing kit. These little extras will make your guests feel well taken care of.
2. Keep the party moving.
Almost as important as keeping the party going is keeping it moving in the right direction. Sitting around and waiting is a buzz kill. So work with your planner to ensure things happen at the right pace. Cocktails should be no more than one hour. And guests shouldn't wait more than 20 to 30 minutes between courses. Guests notice when things drag, and ultimately they want to get on the dance floor.
3. Get your guests on the dance floor ASAP.
The key to a super fun reception is a lot of dancing, but waiting until the end of the night to get your guests on the dance floor could be a mistake. Open up the dance floor the second you finish your first dance. The focus is already on the dance floor and guests will be excited to join the couple for a few songs.
4. Add in some unexpected entertainment.
Guests come to your wedding expecting to eat and dance. What they don't expect? A salsa performance or palm reader. Lawn games such as oversized jenga, giant chess or checkers, bocce ball, and corn hole are a great way for guests to have some good old-fashioned fun. Or a tasting station with beer, wine, and your favorite spirit, complete with an expert, offers a unique interactive experience.
5. Make sure there is enough food.
A fed guest is a happy guest! That means making sure there is ample food for every guest to have his or her fill. There's nothing worse than arriving to a reception where the hors d' oeuvres have already been wiped out by other guests. Plus, you'll want to talk to your caterer to make "sure that the flow of the food service will be efficient and timely so that guests will have more than enough to meet their needs."
6. Offer a late-night snack.
Your guests may have the nibbles after an intense workout on the dance floor. If you feed them a snack in the wee hours of your wedding, they'll be forever grateful. Treat guests to some of your local favorites with a late-night food station guaranteed to give everyone the extra energy needed to keep the party going.
---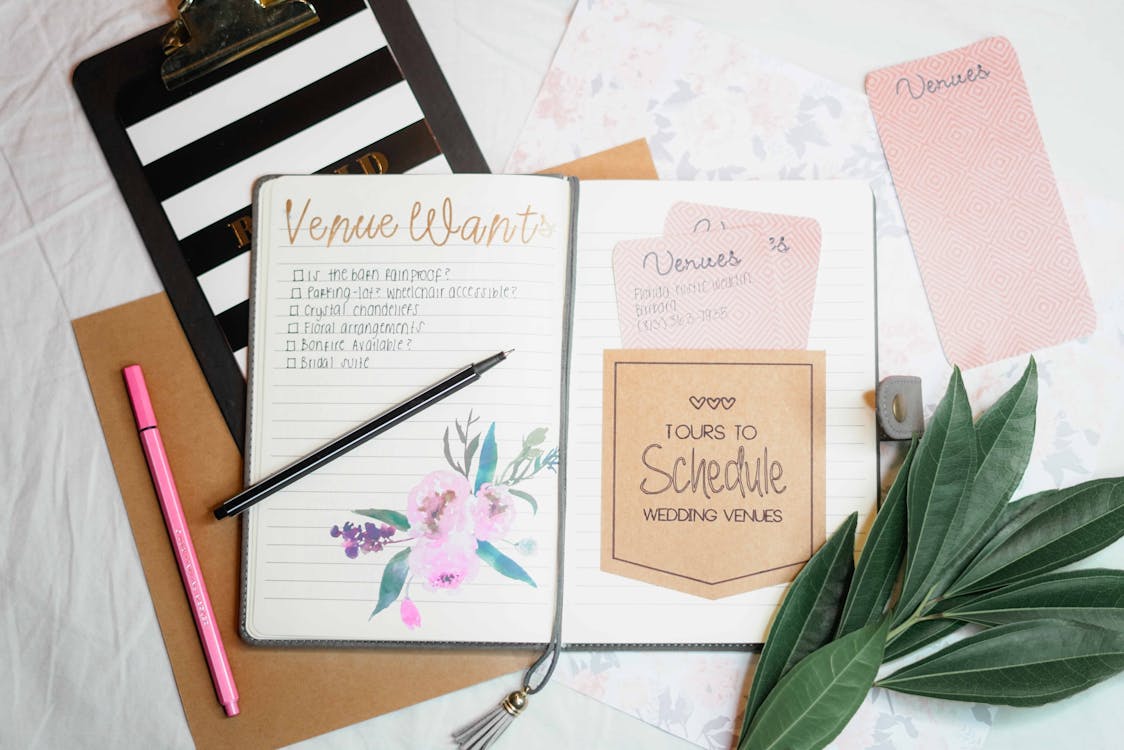 If you're having difficulties pulling your look together and the ideas you have for your wedding style are overflowing your mind and your Pinterest board, this is the product for you. If you are questioning things like what table linens you should rent, what color palette to use or how to turn all of these ideas into a cohesive style.. you are not alone and help is here!
Turn your wedding ideas into a polished and cohesive look
Get support from a team of wedding professionals at your fingertips when you get stuck
Get ideas on how to make your wedding "so YOU" so you can plan the best wedding EVER!
How it works: After you purchase The Chaos Coordinator's Wedding Planning Box, we will email you a Wedding Questionnaire that will help us learn more about your style preferences as well as connect us to your Pinterest Board. Once you've submitted it, we will set up a phone call to chat in more detail. We then get to work designing your wedding style + personalized wedding planning steps while you relax! Once we are done we will ship your custom wedding plan right to your door and link you into our digital platform where you can make changes and plan on the go.
---
HAPPY PLANNING FROM YOUR CHAOS COORDINATORS!
ARE YOU IN?
Subscribe to our newsletter and find out first about New Wedding Styles, Seasonal Sales, DIY Wedding Tips and Planning Posts.

You'll get notified first anytime we have a sale on our Wedding Planning Box or when we giveaway free copies of our upcoming wedding planning book, The Chaos Coordinators Wedding Planning Book.
We'll only send out a newsletter once a month so you don't feel spammed!