What you need to know about planning a destination wedding. Hint: There's more planning necessary than you think.
Before you can say your vows on a Greek island, a Caribbean beach or at an elegant mountain resort, you have to plan the event.
Lest you get overwhelmed, remember this: Planning a destination wedding doesn't have to be more difficult or markedly more expensive than a domestic wedding. For those who are curious but unsure where to start, here are 10 tips and tricks to plan a beautiful destination wedding without overloading yourself with stress.
1.) DO A DESTINATION WEDDING IF IT FITS YOUR VISION
Though destinations weddings can come with added stress, getting your family and friends together on a physical adventure to enjoy the emotional adventure of a wedding can reap benefits.
Any time you leave your comfort zone, your senses are heightened. You bond with your guests through a series of unique, shared experiences. You are able to literally and truly step away from the monotony of your day-to-day life.
2.) CONSIDER THE BUDGET.
Like planning any vacation, budget is going to dictate location, time of year and how long the festivities can last.
Travel and hotel costs for you and your guests can fluctuate depending on if you're traveling during peak-season versus low-season or during a holiday weekend. Be sure to check your calendar and events happening in and around your destination location in advance.
Major events in the location could drive up the cost of accommodations and more. An average budget for a luxury destination wedding ranges from $750 to $1,500 per person for only the ceremony and reception, and a luxury wedding planner's fees will account for roughly 20 percent of the budget.
One way to keep prices lower, once the location is set, is to find an all-inclusive resort with wedding packages that fit the couples' budget.
A good rule of thumb is that packages are going to be more straight-forward. They are a great option for couples that need a one-stop-shopping experience; whether that is because of finances, time, experience, etc.
A package in Hawaii or the Caribbean—two of the most popular destination wedding locations outside the U.S.—at an all-inclusive resort will start, on average, at $3,500 and range up to $12,000 or more for the ceremony and reception.
3.) DECIDE ON A LOCATION.
I've planned events all over the world—Switzerland, Africa, Italy, Mexico. Every place is so different, so beautiful and more unique than the next.
Some of the most popular destinations are Mexico, the Caribbean and Hawaii.
The world is shrinking, and individuals are becoming more educated, more cultured, and they have seen and experienced things that previous generations haven't. Their families and friends are often spread throughout the world, making travel a necessity for at least a portion of the guest list.
The seasons in the decided destination will impact your preferred wedding date, but taking risks with weather seasons can also mean potential savings as hotels and resorts discount rooms and wedding packages to attract travelers. Love the Caribbean and Bahamas? Watch out for the months from June to November during the hurricane season. Looking to Miami, Charleston or the Southern U.S.? Watch out for mid-summer months when humidity will soak your guests if it is an outdoor wedding.
4.) HIRE A PLANNER.
Though planning a DIY destination wedding is possible, the "destination" part of the equation often makes it necessary to hire another pair of hands to make the day run smoothly.
There are so many things that go into planning and you really have to be prepared weeks in advance of going to your destination. There are so many logistical things behind the scenes with any kind of wedding. You need a planner to make it happen: They know who is good vendor and who isn't and will help you get connected with the people who will help make your day everything you want it to be.
5.) CREATE THE GUEST LIST EARLY.
Deciding on the number of guests will directly affect how much the couple can do for—and with—the guests. And it directly impacts the budget.
The smaller the guest list, the less catering and alcohol you have to bring. Less tables means less centerpieces and floral. Cutting back on costs like these only makes more room in your budget to splurge on other elements of the big day.
Average-size weddings (typically 80 to 120 guests) and even larger weddings can be arranged (assuming you have a planner to help), but keeping the wedding small will cut down on costs and allow the couple more time with each guest.
If you buy a wedding package for 10 people at a luxury resort that has truly taken the time to design an extraordinary experience for your guests, then that comes across as a luxury wedding. Try to replicate that for 100 or 150 guests, and suddenly the experience is diluted to something that feels much more static and basic.
Having a small destination wedding doesn't mean that you can't eventually include all the well wishers. At-home receptions for those who couldn't voyage to the destination are a rising trend in the weddings.
However many friends and family you decide to invite, invite the guests earlier rather than later.
Send invites at least nine months to a year in advance. Your attendees are going to need to budget because it can get costly. It's not just one night that you want them there. It's easier to book a domestic flight and get a few days off work over a weekend. It's harder to get a few days off and travel abroad.
6.) KNOW HOW TO PICK YOUR VENDORS.
Decide whether you want to use suggested, local vendors at your destination or if you want to have your own vendors from home travel to your destination. If you go the latter route, be prepared for a massive increase in cost, as your local vendors will have to be paid for their travel fees.
Going with local vendors may save time and give travelers an insider's knowledge as most local vendors know the venue and the area. If planning a DIY wedding, request a list of the local vendors from your venue and research them thoroughly before signing a contract.
Planners can also help you navigate the rules of bringing in outside vendors. Some countries (and even the venues) will have strict rules on who can work at the events.
7.) DON'T OFFER TO PAY FOR EVERYONE.
When you ask friends and family to take off time from work and from their own families to be in (not just attend) your wedding, you should not feel guilty if you ask them to pay for their own travel costs.
The bride and groom should not stress over footing the bill if they can't afford it. Only couples with "extensive resources" offer to cover everyone's expenses.
There is no right or wrong way. We've had couples who were able to foot the bill for everyone, but if you can't afford to do this, a nice gesture would be to cover a small portion or treat them to a spa day or excursion as part of their thank-you gift.
8.) GET (LEGALLY) MARRIED
The legality of the marriage—and making sure that it's recognized in the U.S.—is also a detail the couple should plan.
If the ceremony is outside the U.S., couples should plan to visit the U.S. embassy at their destination to verify that the destination wedding is legally recognized.
Sometimes it's easier to avoid all of that.
Often what our couples do is make it official [in the U.S.] from a legal standpoint with a civil ceremony and then ceremoniously celebrate their union at their destination wedding.
9.) GETTING TO THE DESTINATION
In the days, weeks and months before leaving for a destination, budget-conscious couples can save money by thoughtful planning.
We've seen some brides bring their dress on a plane as a carry on. Check with the airline and have someone steam the dress when you get there. Think ahead—if you're buying a lot of things from Etsy or vendors, see if you can get it sent directly to the hotel and assemble the items before the wedding.
Before and during travel, couples should consider the comfort of the guests as well.
Couples should always plan with the guest experience in mind. Seek out locations that create excitement for their guests while also ensuring their physical and emotional comfort level.
Plan to personally greet or have someone else greet the guests with itineraries, instructions and other welcoming items. This simple act can stave off confusion for larger parties and will make the guests feel appreciated for their efforts to attend the event.
10.) CELEBRATE
Aside from a little getaway and some gorgeous scenery as the backdrop of the wedding, a destination wedding is always a great way for both families to come together and really get to know each other. Spending so much time with one another makes for great memories and new relationships.
---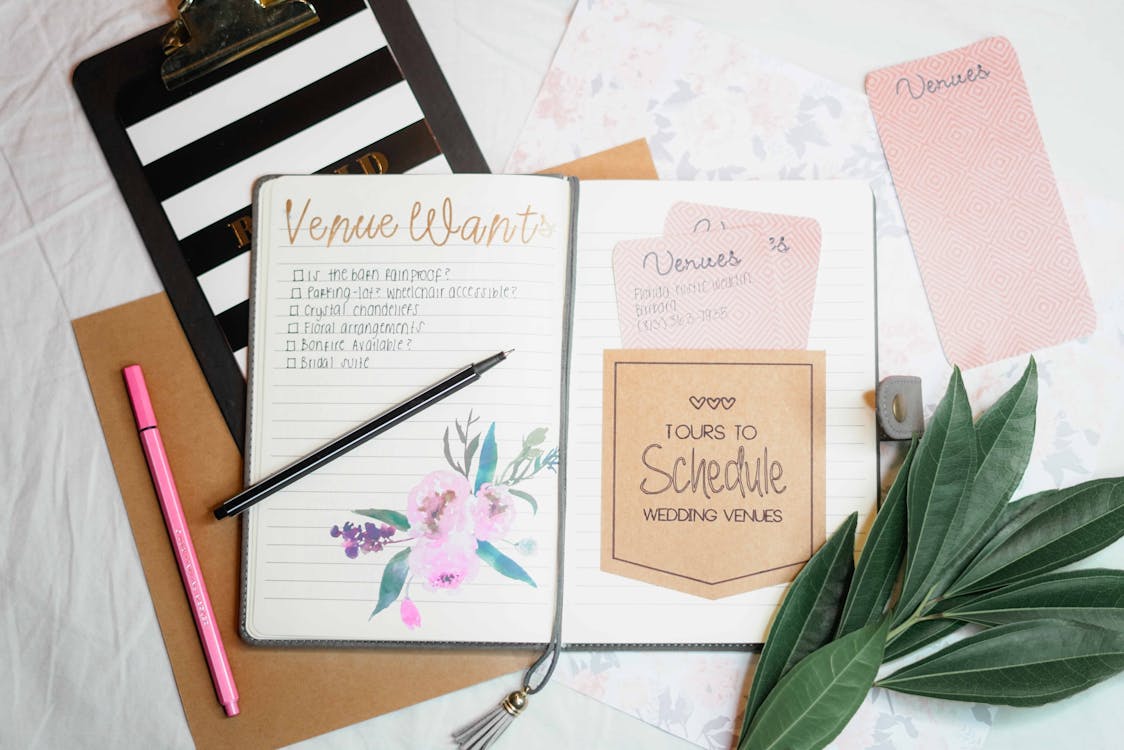 If you're having difficulties pulling your look together and the ideas you have for your wedding style are overflowing your mind and your Pinterest board, this is the product for you. If you are questioning things like what table linens you should rent, what color palette to use or how to turn all of these ideas into a cohesive style.. you are not alone and help is here!
Turn your wedding ideas into a polished and cohesive look
Get support from a team of wedding professionals at your fingertips when you get stuck
Get ideas on how to make your wedding "so YOU" so you can plan the best wedding EVER!
How it works: After you purchase The Chaos Coordinator's Wedding Planning Box, we will email you a Wedding Questionnaire that will help us learn more about your style preferences as well as connect us to your Pinterest Board. Once you've submitted it, we will set up a phone call to chat in more detail. We then get to work designing your wedding style + personalized wedding planning steps while you relax! Once we are done we will ship your custom wedding plan right to your door and link you into our digital platform where you can make changes and plan on the go.
---
HAPPY PLANNING FROM YOUR CHAOS COORDINATORS!
ARE YOU IN?
Subscribe to our newsletter and find out first about New Wedding Styles, Seasonal Sales, DIY Wedding Tips and Planning Posts.

You'll get notified first anytime we have a sale on our Wedding Planning Box or when we giveaway free copies of our upcoming wedding planning book, The Chaos Coordinators Wedding Planning Book.
We'll only send out a newsletter once a month so you don't feel spammed!