If you are an unconventional person and want an offbeat wedding ceremony then this post is for you. Read on to get inspired!
---
1) Change the seating
In a traditional wedding ceremony, the guests should be seated on two different sides, one of the bride and the other of the groom. However, you can give this traditional ritual your own twist. No two ceremonies are similar, so why the seating should be similar. You can arrange the seating in a circular or spiral shape around the altar. A beach wedding can have a unique seating of pallet ottomans.
---
2) Carry an everlasting bouquet
Instead of fresh flowers, carry a bouquet made of silk or clothes, as it would not die, fade, or wilt. It will last forever and can even be customized to your particular color palate.
---
3) Carry out a knot-tying ritual
Let go of the traditional unity candle lighting ritual and opt for a knot-tying ceremony by joining two ropes with the help of a fisherman's knot. In this ceremony, the couple will tie the knot together and make it strong and tight. The knot represents the strong bond of the couple.
---
4) Choose your wedding venue
It is not necessary that your wedding venue should be a religious institution. You can pick a venue which is meaningful to both of you. It can be the place of your first date, no matter how unexpected it is. It can be a park, the backyard of your house, a hip city attic, an old theater, etc. Ensure that your officiant is comfortable with the non religious space that you choose for your nontraditional wedding ceremony.
---
5) Walk back down the aisle in something other than a seed or rice shower
Choose something different for your wedding recession. There are a lot of exciting options. For instance, your guests can throw paper airplanes, eco-friendly confetti, ringing bells, or waving ribbon wands. Your guests can even wave flags when you exit.
---
6) Give flowers to your dear ones
Choose something different than the traditional garter or bouquet toss. For example, you can give individual flowers to your loved ones and friends. Or you can have a boutonniere or bouquet station, where the guests can create their own flowers. You can also organize a unique anniversary dance for all the married duos at your marriage ceremony.
---
7) Write your own vows
Add your own language to the traditional wedding vows in order to make your wedding ceremony more meaningful to both of you. If you do not like the idea of writing your vows from scratch, you can change the conventional wordings or else you can consult your officiant for something not that traditional.
---
---
8) Bridesmaids carrying something unique
Leave the flowers alone and ask your bridesmaids to carry a clutch purse, which could carry tissues for some touching moment. The bridesmaids can even carry lanterns, which will provide additional lighting at night. Books are also an excellent option for a wedding with a bookish theme.
---
9) Wear a different accessory
Skip the standard headpiece, the long white veil, and wear something different such as a soft feathery fascinator, a flower crown, some sparkly hair clips, or a chic headband. Or, do not wear anything at all, just let your hair down.
---
10) Wear a colorful wedding dress
Break away from the traditional white wedding dress, wear a dress in black, blush, champagne, or pastel hues such as lavender, mint, cornflower blue, etc. This will lend an understated charm to your ensemble as well as your nontraditional wedding ceremony. You can also wear an ivory or white dress and add some hint of color by wearing a cardigan, sash, piece of jewelry, or pair of shoes.
---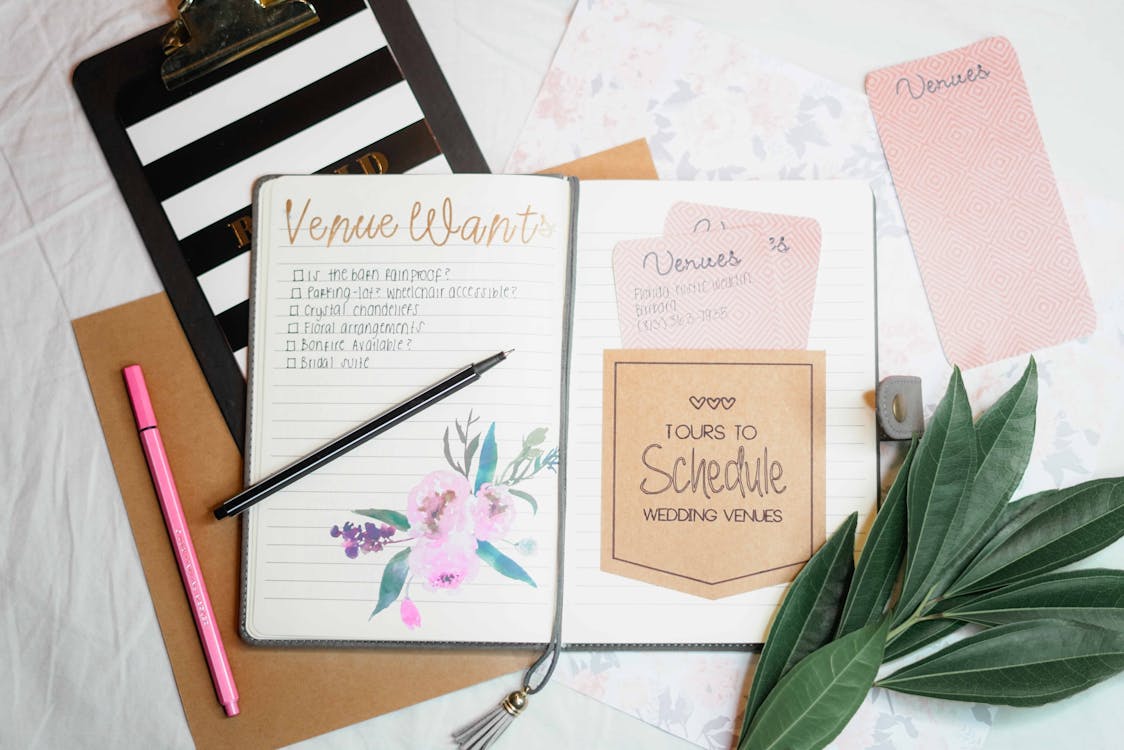 If you're having difficulties pulling your look together and the ideas you have for your wedding style are overflowing your mind and your Pinterest board, this is the product for you. If you are questioning things like what table linens you should rent, what color palette to use or how to turn all of these ideas into a cohesive style.. you are not alone and help is here!
Turn your wedding ideas into a polished and cohesive look
Get support from a team of wedding professionals at your fingertips when you get stuck
Get ideas on how to make your wedding "so YOU" so you can plan the best wedding EVER!
How it works: After you purchase The Chaos Coordinator's Wedding Planning Box, we will email you a Wedding Questionnaire that will help us learn more about your style preferences as well as connect us to your Pinterest Board. Once you've submitted it, we will set up a phone call to chat in more detail. We then get to work designing your wedding style + personalized wedding planning steps while you relax! Once we are done we will ship your custom wedding plan right to your door and link you into our digital platform where you can make changes and plan on the go.
---
HAPPY PLANNING FROM YOUR CHAOS COORDINATORS!
ARE YOU IN?
Subscribe to our newsletter and find out first about New Wedding Styles, Seasonal Sales, DIY Wedding Tips and Planning Posts.

You'll get notified first anytime we have a sale on our Wedding Planning Box or when we giveaway free copies of our upcoming wedding planning book, The Chaos Coordinators Wedding Planning Book.
We'll only send out a newsletter once a month so you don't feel spammed!