If there's one thing that can make or break a wedding for a guest, it's the food. When guests travel far and wide to dedicate a day—or weekend—to your celebration of love, a crowd-pleasing menu is a surefire way to make their time enjoyable.
These days, creating a mouthwatering menu is more than just listing two or three options for guests to check off on their RSVP card. As more and more wedding food trends evolve, such as the decline of the sit-down dinner, the rise of the brunch wedding, and the increase of couples looking to personalize their catering, many weddings are bringing a unique and memorable dining experience to the mix.
Our favorite way to do this? Food bars. Whether at the cocktail hour or during the reception, we love the customization and choices that a hearty food station presents, not to mention the interactive experience it evokes, enabling guests to mix and mingle even more.
And the options are endless! For a brunch wedding, you can't go wrong with a bacon bar or waffle bar (with choice of toppings of course). For Southern nuptials, we love an old-fashioned biscuit bar with flavored jams or a pie station. Cheese and charcuterie stations, as well as a raw bar, have a timeless and universal appeal, while popcorn bars, ice cream stations, and hot cocoa bars bring a whimsical touch. These ideas don't need to be confined to appetizers and/or the main course—use them in lieu of the cake for a non-traditional feel. Can anyone say donut bar or cupcake station?
No matter which foods you want to specialize, the trick to nailing a delicious food bar is providing different flavors or varieties of what's on display. That way, there's something for everyone. Take a look at these ideas for some inspiration.
A cheese station is a must-have for cocktail hour. Designate each cheese type with a hexagonal marble tile, like this layout does, and pair it with cider to wash the cheese down.
Wedding cakes are so yesterday—a cupcake table is a decadent way to up your sweets game.
An oyster bar is the perfect touch to a luxe and elegant wedding, especially one with coastal charm.
We can't think of a better complement to a farm-style wedding than a vibrant veggie bar stocked with everything from broccoli to carrots to beets for healthy snack munchies.
This pretzel bar is made complete with the choice between the classic twist pretzel and pretzel bites, with decadent dips to dunk them into.

A macaron bar is très chic, the pastel delectables framed by a bed of greenery.
Bacon makes everything better, especially when you have options of chocolate covered bacon, honey jalapeño bacon, and alder smoked bacon.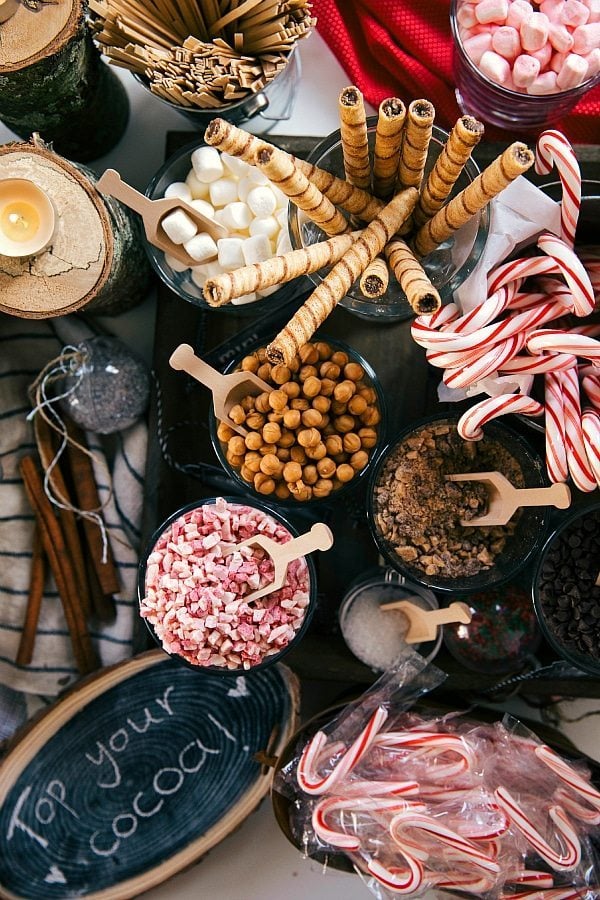 A hot chocolate bar complete with warm, cozy treats brings a bit of hygge inspiration to a winter wedding.
A croissant station puts a fun twist on a bread station, a perfect addition to any cocktail hour.
From decadent raspberry to mouthwatering blueberry, we can't get enough of this pie station ripe with Southern goodness.
A charcuterie bar brimming with meats, cheeses, and fruits evokes Mediterranean vibes.

For a whimsical touch, a popcorn bar featuring different flavors does the trick. Place them in barrels on an old wagon cart for a rustic, autumnal feel.

Give the classic salad bar a spin with various iterations, from a roasted veggie salad to a harvest inspired mix.
Donut bars continue to stay on top of the trend map. Glazed, sugar, powdered, ring shaped donuts, donut holes, Long Johns—we'll eat them all! And we especially love this vertical presentation.

A retro-themed spud bar featuring potato wedges, baked potatoes, fries, and tater tots.


A campfire favorite, s'mores are a classic choice for an outdoor wedding. Deck out the station with all the goods—marshmallows, graham crackers, and chocolate—so guests can make their own.

A rustic pizza station with pies served on a table.
---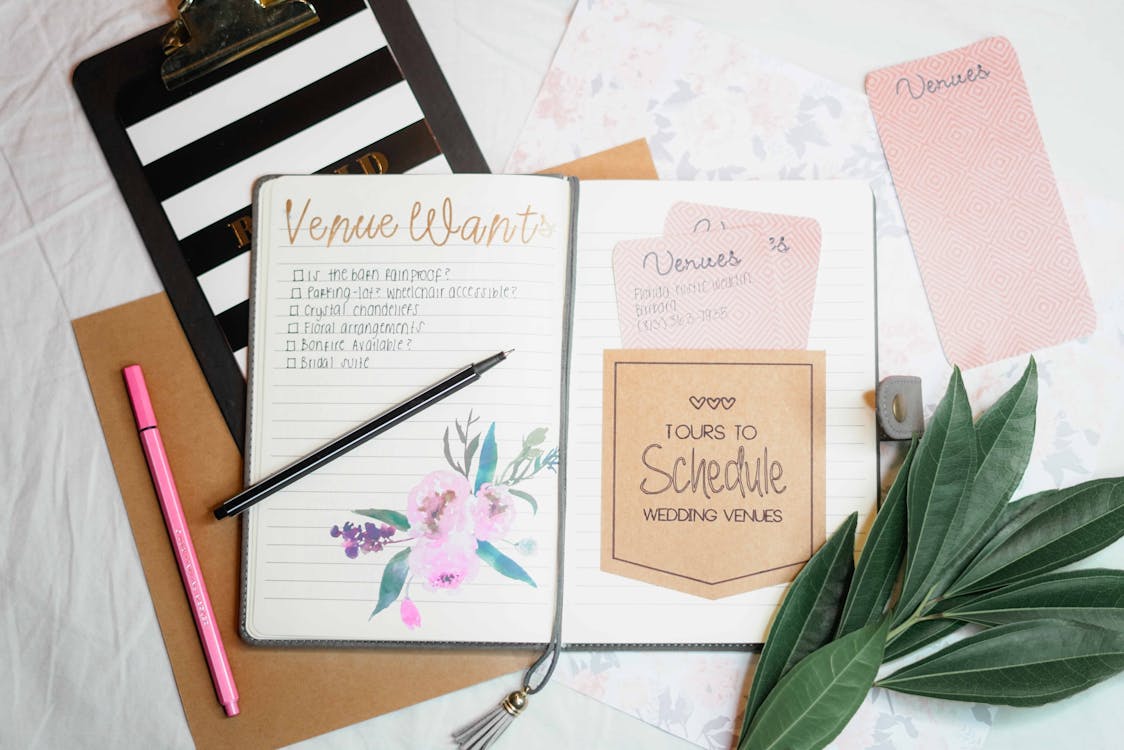 If you're having difficulties pulling your look together and the ideas you have for your wedding style are overflowing your mind and your Pinterest board, this is the product for you. If you are questioning things like what table linens you should rent, what color palette to use or how to turn all of these ideas into a cohesive style.. you are not alone and help is here!
Turn your wedding ideas into a polished and cohesive look
Get support from a team of wedding professionals at your fingertips when you get stuck
Get ideas on how to make your wedding "so YOU" so you can plan the best wedding EVER!
How it works: After you purchase The Chaos Coordinator's Wedding Planning Box, we will email you a Wedding Questionnaire that will help us learn more about your style preferences as well as connect us to your Pinterest Board. Once you've submitted it, we will set up a phone call to chat in more detail. We then get to work designing your wedding style + personalized wedding planning steps while you relax! Once we are done we will ship your custom wedding plan right to your door and link you into our digital platform where you can make changes and plan on the go.
---
HAPPY PLANNING FROM YOUR CHAOS COORDINATORS!
ARE YOU IN?
Subscribe to our newsletter and find out first about New Wedding Styles, Seasonal Sales, DIY Wedding Tips and Planning Posts.

You'll get notified first anytime we have a sale on our Wedding Planning Box or when we giveaway free copies of our upcoming wedding planning book, The Chaos Coordinators Wedding Planning Book.
We'll only send out a newsletter once a month so you don't feel spammed!