SIGNATURE POP-TAIL
What could be better than hand-crafted, signature wedding cocktails? That's easy. Hand-crafted, signature wedding pop-tails. Mix drink with dessert to create a drool-worthy hybrid perfect for steamy summer temps. This pretty gin and tonic pop is guaranteed to get guests talking (and maybe even dancing, too)!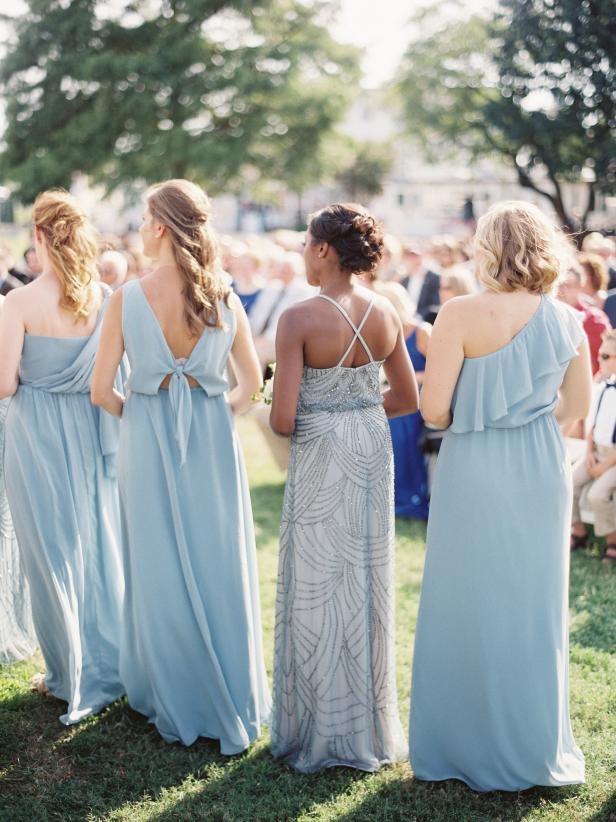 BREEZY BLUE
Skip harsh hues and opt for soft, sky blue bridesmaid dresses for an airy, ethereal wedding day. Pro tip: the easiest way to pull off the mismatched maid look is by asking your girls to order from the same manufacturer. Pick the fabric and blue hue of your dreams, then give your bridesmaids the freedom to choose a neckline and print they feel the most comfortable in.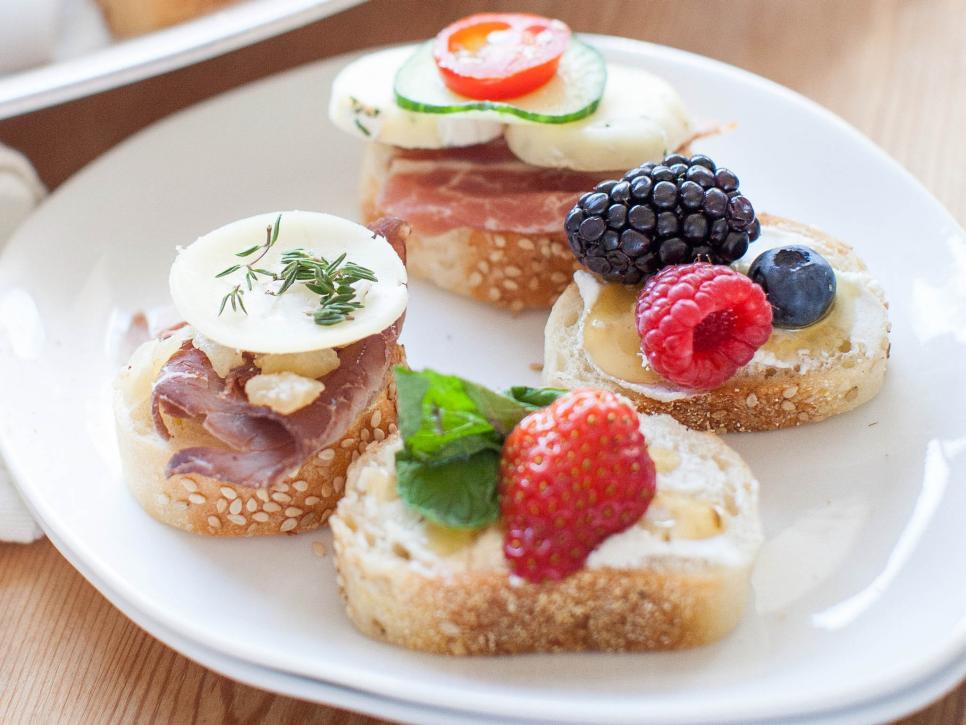 FRESH BITES
Crush the crostini game and serve guests with various flavor options. Juicy berries and honey drizzle will satisfy guests' sweet tooths until it's time for cake. Pro tip: you can never go wrong with prosciutto and mozzarella for a savory option.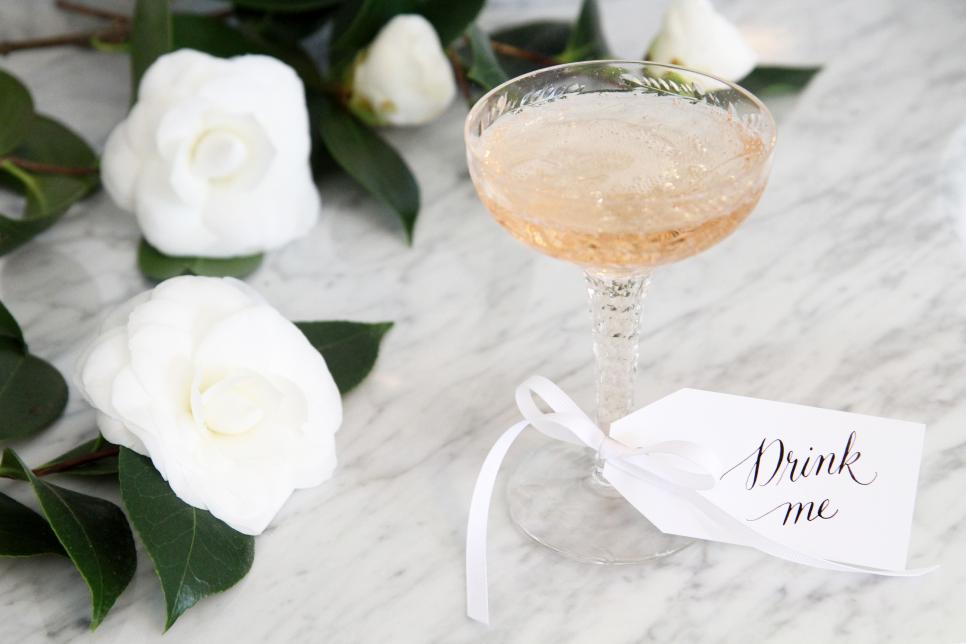 SIP + BE SEATED
Offer guests a sip as soon as they enter your event with a "sip and be seated" table. Let's be honest, there's nothing quite as refreshing as a good, chilled glass of rosé on a hot summer day. Agreed?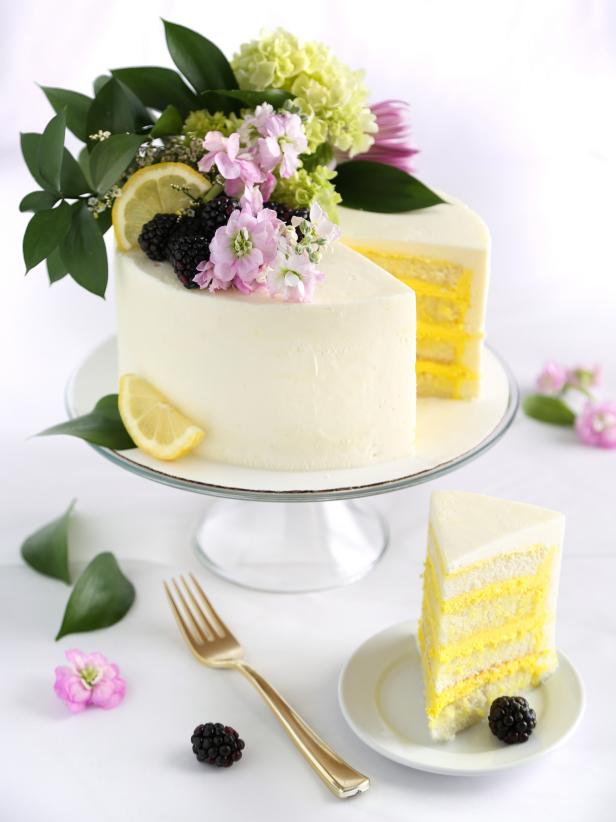 CITRUS SWEETS
Skip heavenly white and amp up the flavors of summer with a sweet lemon elderflower cake. Garnish with berries, lemon slices and petite purple blooms. Fun fact: These are Prince Harry and Meghan Markle's wedding cake flavors.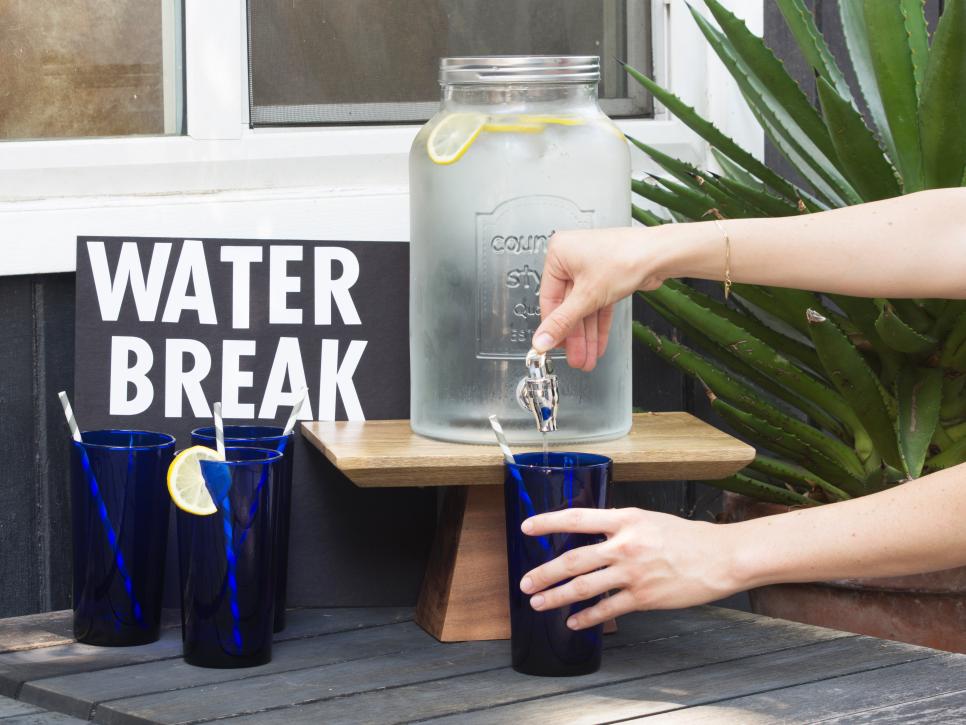 MOD HYDRATION STATION
Keep guests hydrated and happy with fruit-infused water stations. For modern brides and grooms, this graphic, black and white signage and sleek pedestal are speaking your language. If you're a "more is more" kind of couple, recreate a similar setup with gilded signs and blooms galore.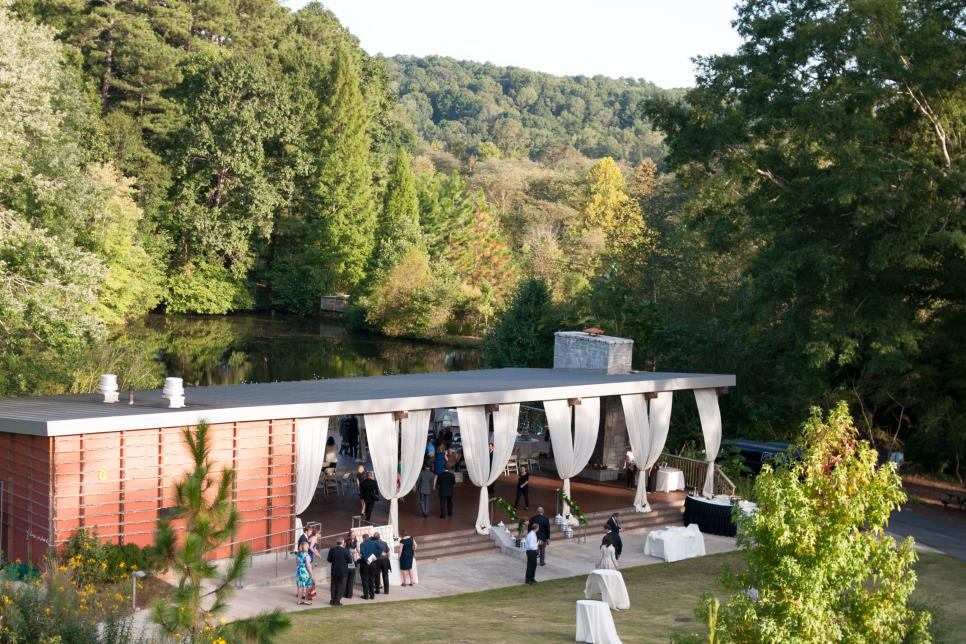 DRAMATIC DRAPES
Never underestimate the impact of drapes. Add sleek, white draping fabric to a pavilion or garden venue to create upscale sophistication outdoors.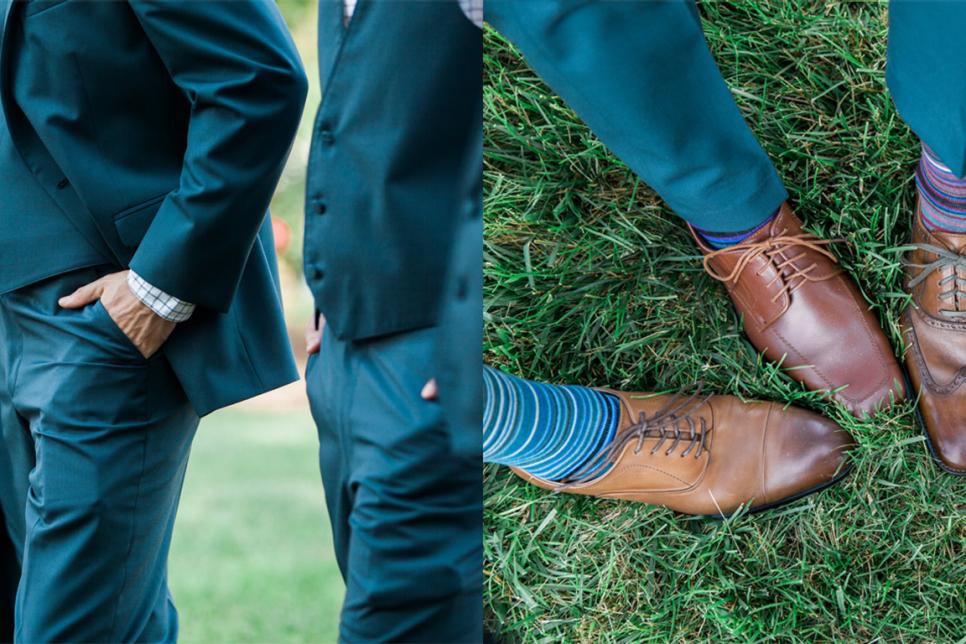 MAKE HIM YOUR SOMETHING BLUE
Stick your groom and groomsmen in handsome, blue suits for the day. Trust us, he'll look dashing and he'll feel comfortable in this classic, semi-casual and sun-friendly approach to wedding attire.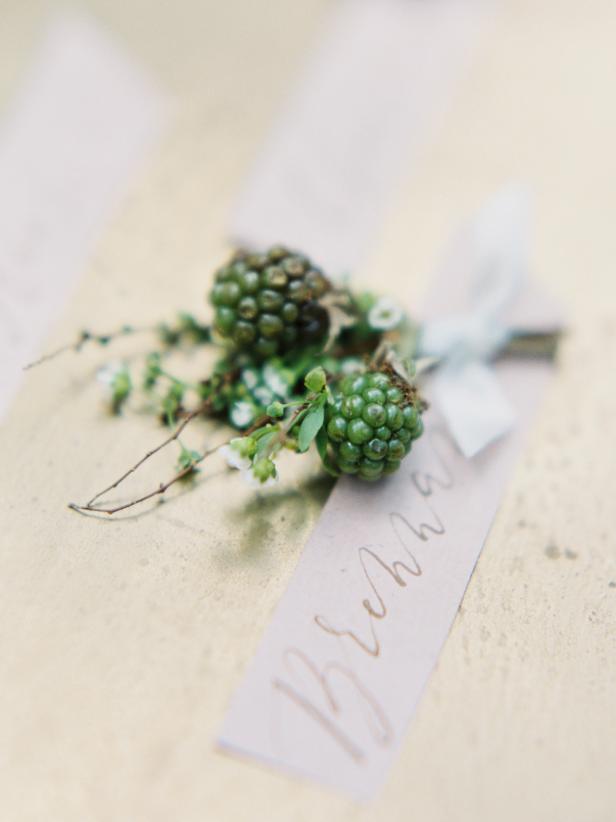 BERRY BOUTS
Nothing says seasonal like a beautiful boutonniere filled with fresh, on-the-stem berries. Whether they're in peak or off-season, these lapel decorations can lend a fresh feel to your big day.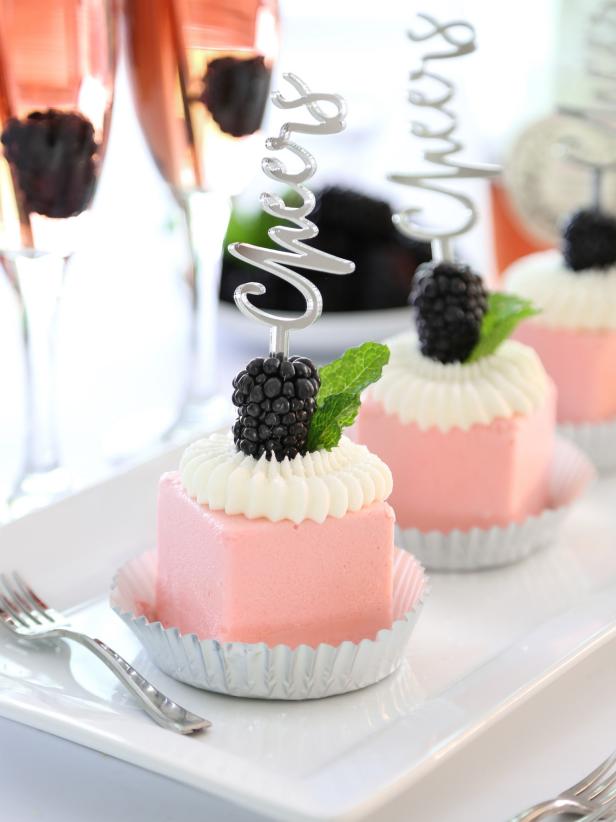 YES WAY, ROSÉ
Turn the summer-sip staple into a pint-sized sugary delight. This rosé toasting cake is a beautiful, bite-sized confection crafted from your go-to bottle of blush. Cheers!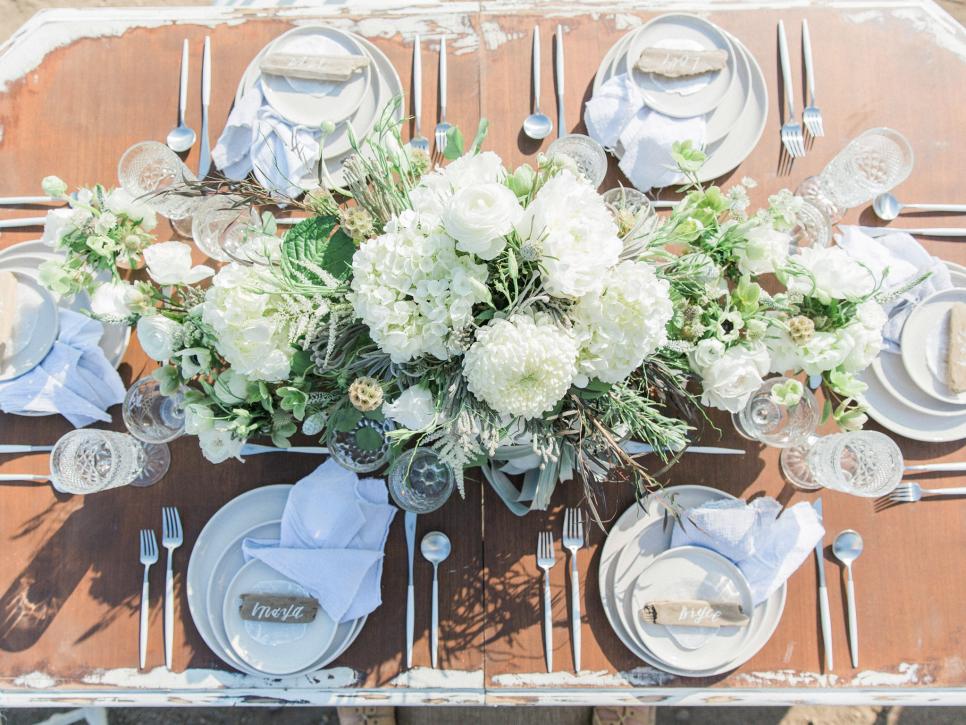 BRIGHT WHITE + BEACHY
Driftwood, sea glass and soft white blooms aplenty — this table setting is fit for a sophisticated seaside affair. The good news? This design would look just as heart-stoppingly beautiful inland as it does here by the sea.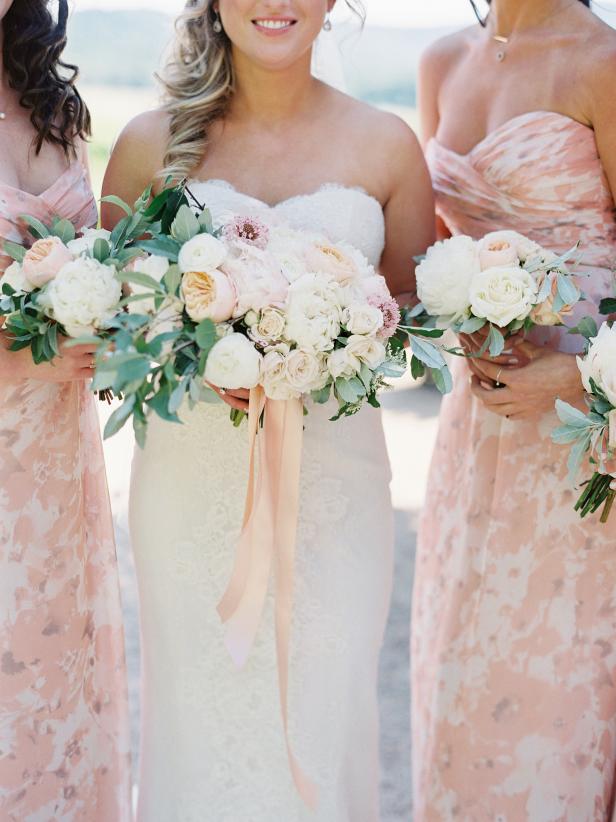 FLORALS GALORE
Fact: there's no such thing as "too many flowers" on your wedding day. Pair your bridesmaids' pretty posy bouquet with a pastel, floral gown for an undeniable, summery scene.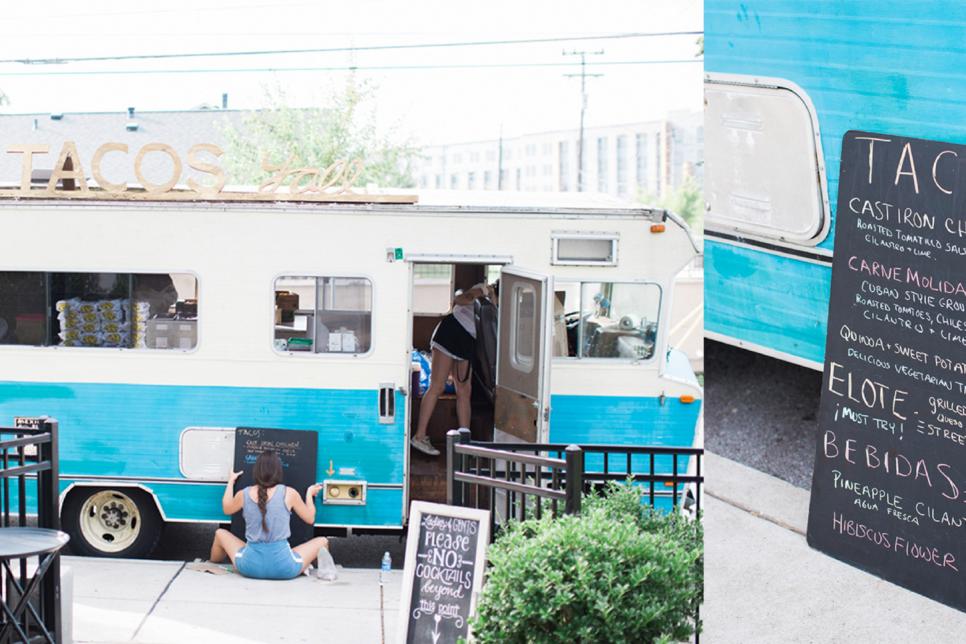 SPICE UP THE MENU
Forget about that four-course meal. Trust us when we say, guests will be grateful that you opted for fresh-off-the-grill, authentic Mexican tacos instead. This is a fact, people. Tacos are timeless. Go one step further and hire a food truck to cater your fiesta.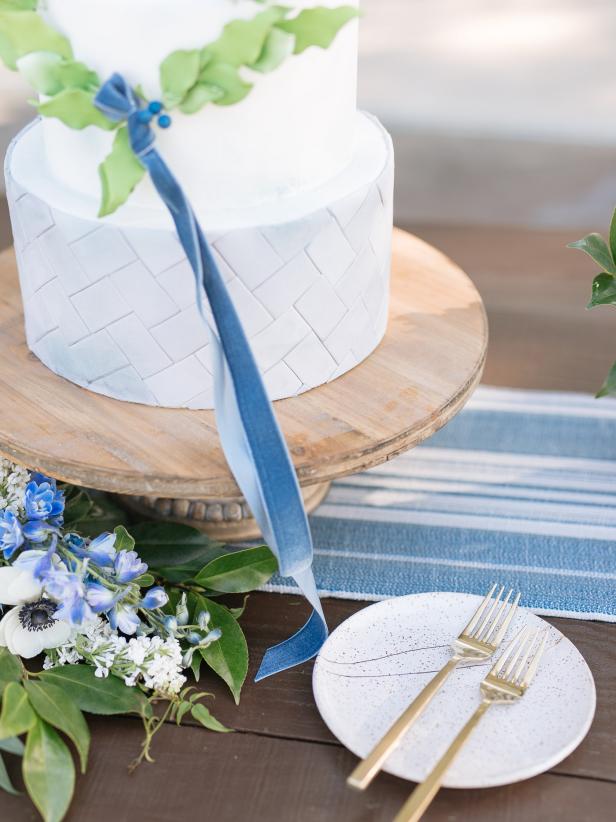 SLICE OF SUMMER
Summer in the Hamptons, anyone? We're swooning over this classic cake vignette. Recreate this look by displaying a crisp white cake on a vintage wood pedestal. Add a striped linen runner and fresh, baby-blue blooms.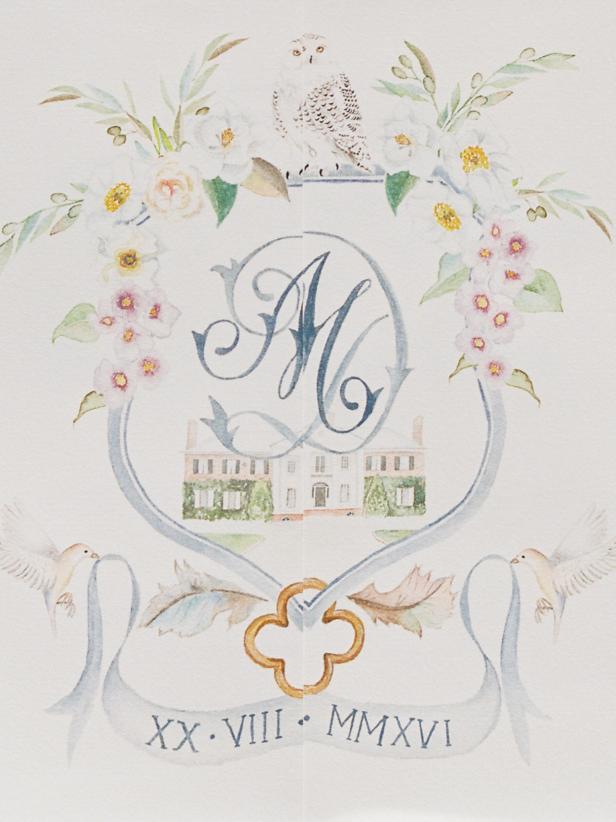 PERSONALIZED + PASTEL
Take a softer approach to classic paper goods and swap gold and black ink for delicate pastel watercolors, instead. For example, couples today are adding their own personal stamp to their celebration by incorporating wedding day crests. This watercolor take on the trend is to-die-for, don't you think?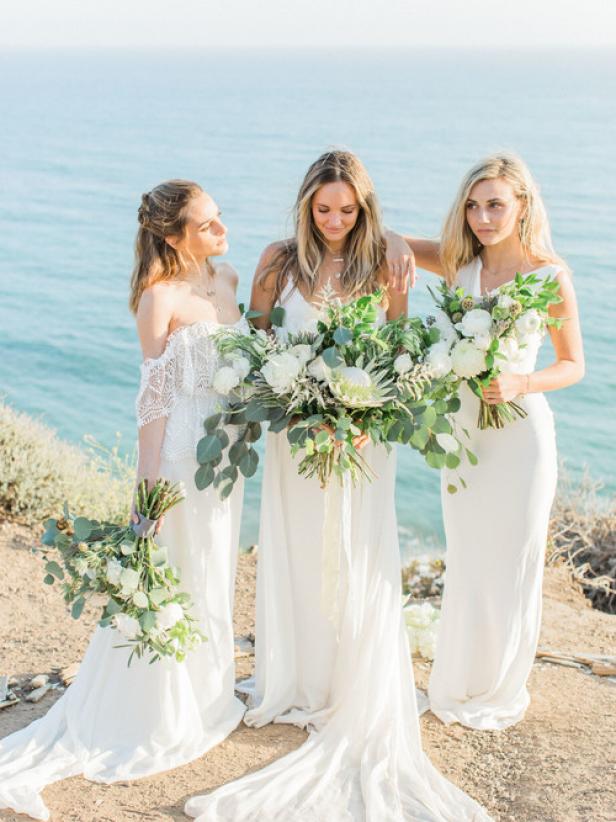 WHITE OUT
Simple and chic: we're a sucker for this sleek wedding trend. Skip the unflattering greens and pinks and have your bridesmaids wear white, too. If you really want to up the chic-factor, request that guests wear white as well.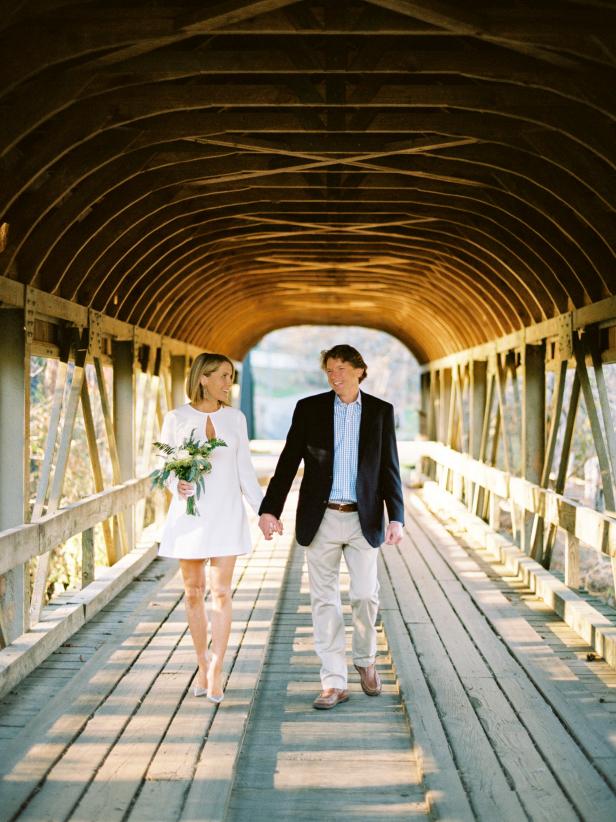 SHOW SOME LEG
Brides, be brave and break the "rules." Hike up that hemline and rock a breezy, beautiful, mini bridal dress on your big day. We love this laidback look for intimate weddings or destination elopements.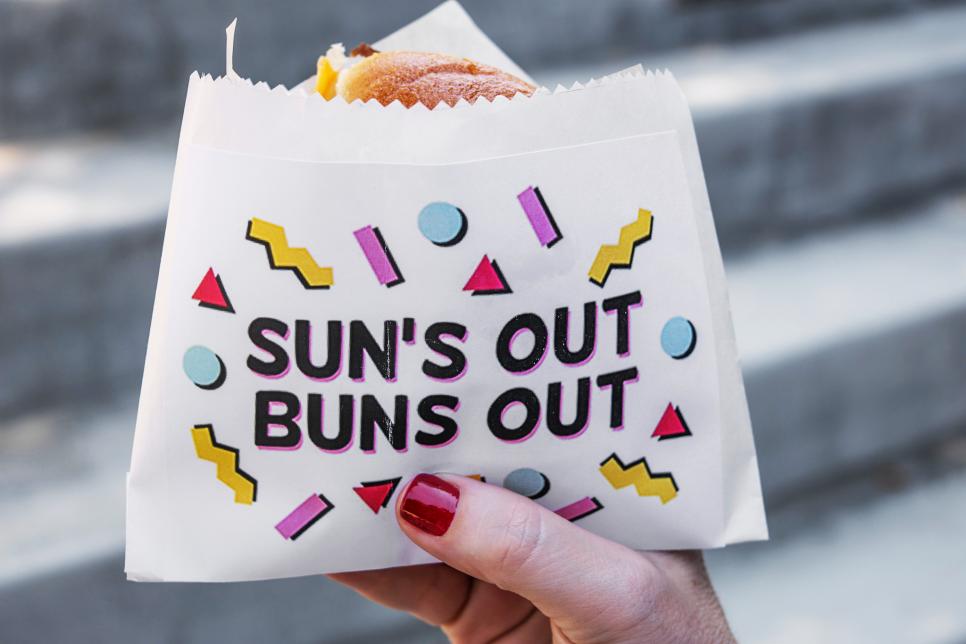 CROWD-PLEASING LATE NIGHT BITES
After a night of dancing and drinking, you (along with everyone else) will be so, so glad you saved up for that late-night burger station. We're currently obsessed with this funky, 90's-inspired wrapper for more modern affairs.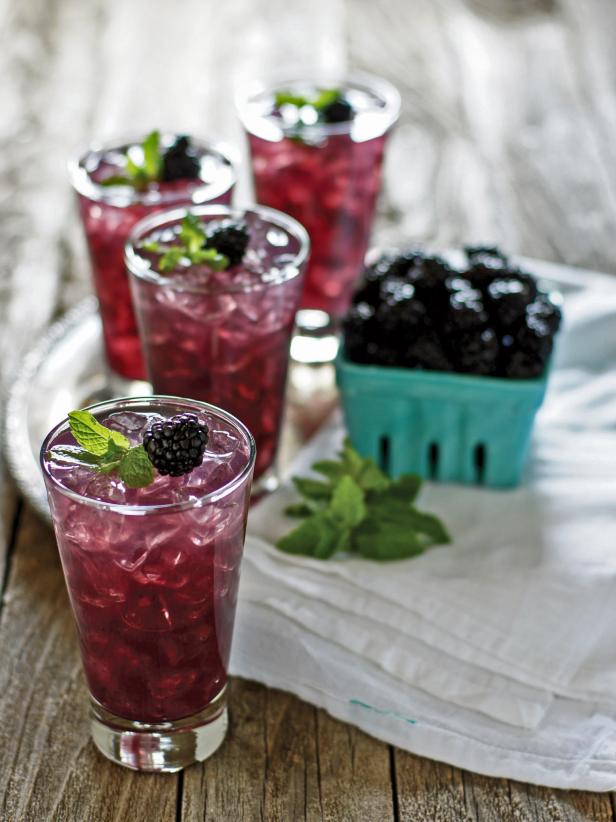 SIGNATURE SUMMER SIP
When choosing your signature drink, think fresh, summer fruits and berries. For this sweet sip, the deep flavor of fresh blackberries melds with the exotic spice of cardamom syrup and citrusy botanicals of gin, providing refreshing relief to a hot, summer wedding.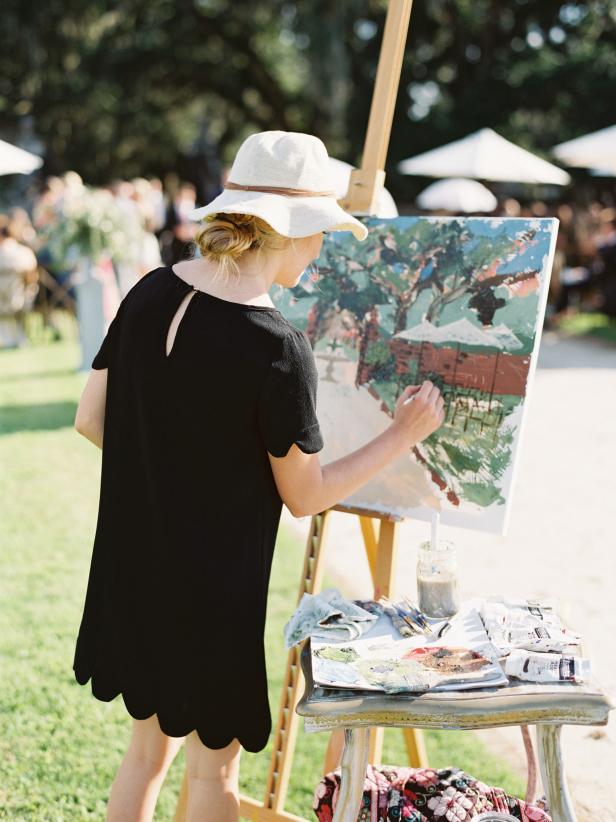 ART IN ACTION
While your photographer will certainly capture every classic moment, we love the idea of commissioning an artist on the premises to create an everlasting piece of art for your newlywed home.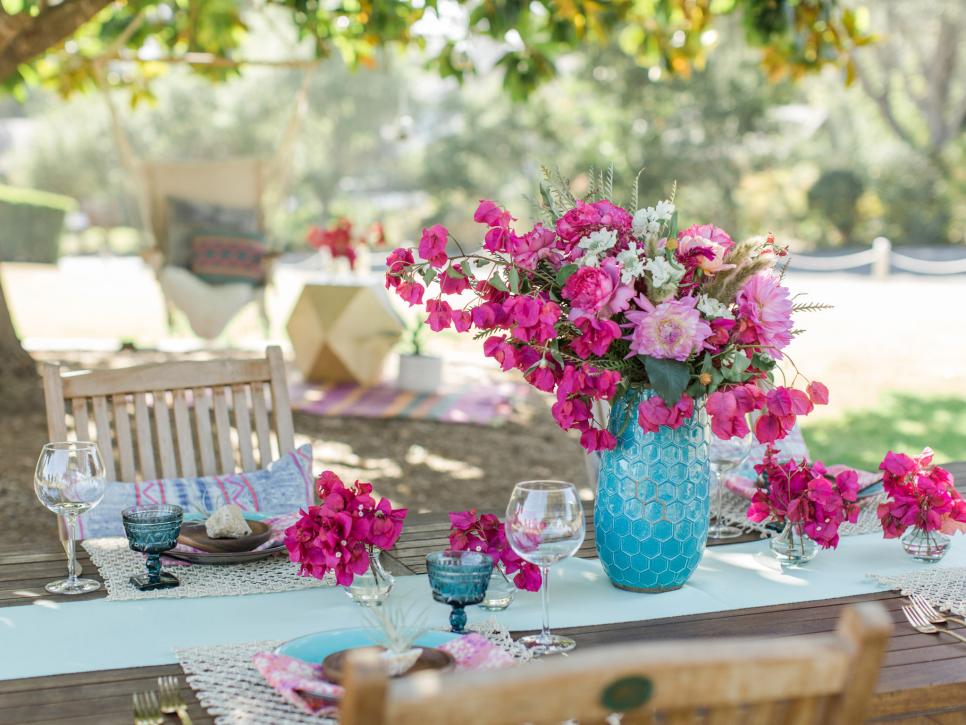 VIBRANT VIBES
Salute summer with bundles of bold blooms, vibrant turquoise glassware and warm wood accents. This casual, cool aesthetic is perfect for that laidback, fun-loving couple who wants their wedding to feel like one big summer party.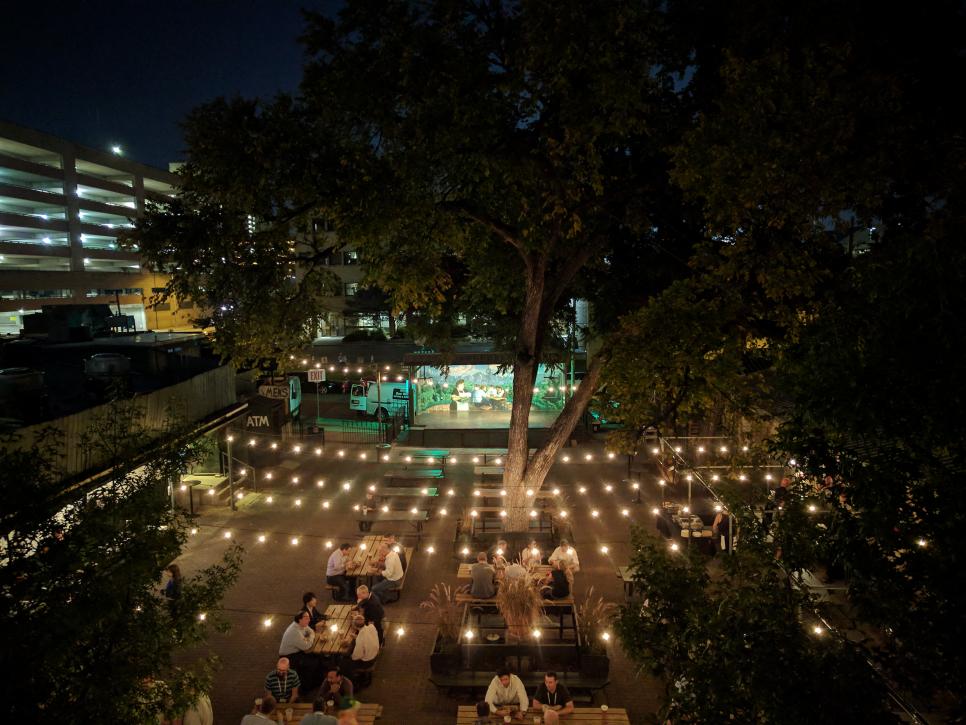 TWINKLE-TWINKLE
Light up the summer night sky with several strings of twinkly patio lights. The results? Equal parts timeless, romantic and magical.
---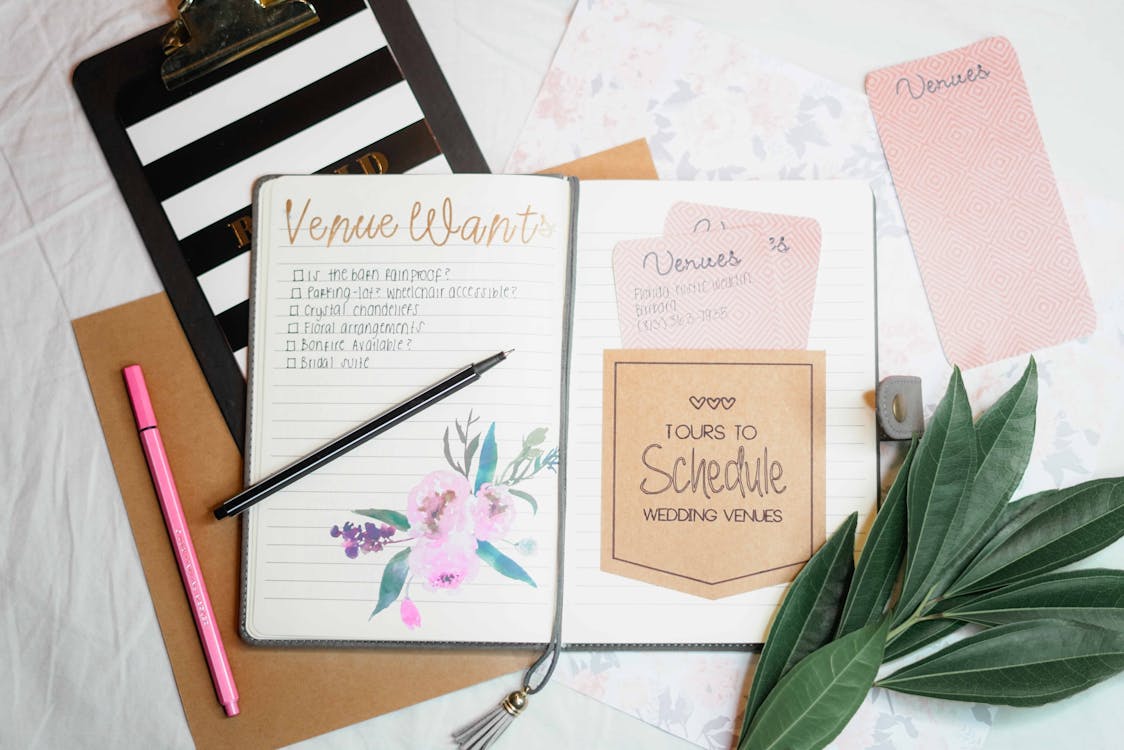 If you're having difficulties pulling your look together and the ideas you have for your wedding style are overflowing your mind and your Pinterest board, this is the product for you. If you are questioning things like what table linens you should rent, what color palette to use or how to turn all of these ideas into a cohesive style.. you are not alone and help is here!
Turn your wedding ideas into a polished and cohesive look
Get support from a team of wedding professionals at your fingertips when you get stuck
Get ideas on how to make your wedding "so YOU" so you can plan the best wedding EVER!
How it works: After you purchase The Chaos Coordinator's Wedding Planning Box, we will email you a Wedding Questionnaire that will help us learn more about your style preferences as well as connect us to your Pinterest Board. Once you've submitted it, we will set up a phone call to chat in more detail. We then get to work designing your wedding style + personalized wedding planning steps while you relax! Once we are done we will ship your custom wedding plan right to your door and link you into our digital platform where you can make changes and plan on the go.
---
HAPPY PLANNING FROM YOUR CHAOS COORDINATORS!
ARE YOU IN?
Subscribe to our newsletter and find out first about New Wedding Styles, Seasonal Sales, DIY Wedding Tips and Planning Posts.

You'll get notified first anytime we have a sale on our Wedding Planning Box or when we giveaway free copies of our upcoming wedding planning book, The Chaos Coordinators Wedding Planning Book.
We'll only send out a newsletter once a month so you don't feel spammed!