One of the best moments of your wedding day is witnessing so many friends and family gathered in one place. Not only is a wedding a chance to celebrate your new marriage, but it's also a prime opportunity to let loose with those you love. Fun wedding games of all kinds energize the evening, adding a childlike playfulness to the event and helping groups mingle and socialize.
Wedding reception games get guests of all ages out of their chairs and dancing, taking pictures or throwing that bocce ball. What's more, many of these games are easy to DIY and require little to no materials at all. Consider this list of wedding game ideas when planning the perfect love-filled wedding day!
---
CROQUET
Guests break up into two small teams and move all their croquet balls through a self-made course of stakes and hoops known as wickets. Arrange the croquet set by a nearby chalkboard with rules and tips for playing. Kick off the afternoon with a bride vs. groom match
THE SHOE GAME
In this growing tradition, two chairs are placed back to back during the reception. The bride and groom sit facing away from one another and exchange one of their shoes to hold in each hand. As playful facts or questions about the relationship are read aloud on a microphone, the couple holds up the shoe for who matches the statement most truthfully. Hilarity ensues as differing opinions emerge.
LIFE-SIZED JENGA
Cut 54, equally sized pieces from a two by four foot beam to create your own life-sized Jenga set. Before the wedding, paint each block in your wedding color theme. As each team plays, one block is precariously removed from the stack and added to the top of the tower. Pair young guests with adults if the tower is on the tall or heavy side.
GIANT CHESS & CHECKERS
For both chess and checkers, DIY your board with checkered black and white fabric. A fabric board makes for easy transport, outdoor play and easy cleanup. For a rustic look, cut and paint your checker pieces from wood slices. Get creative with chess pieces as well, like decorated wine bottles or PVC piping.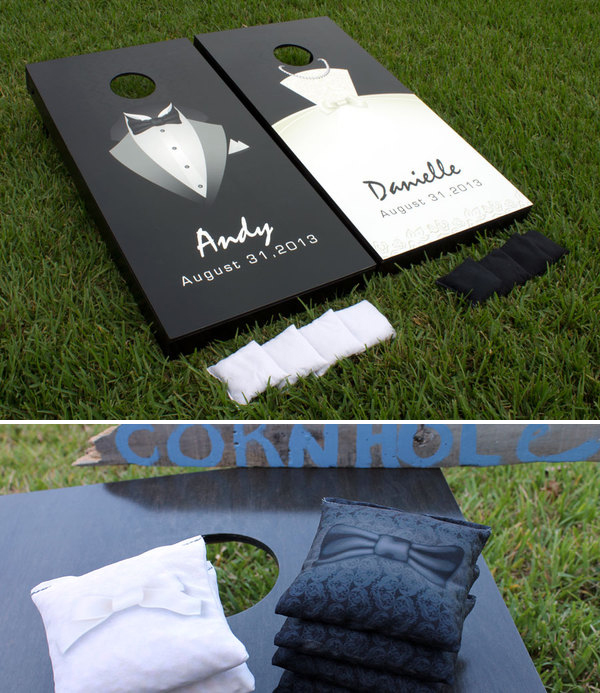 CORN HOLE
Angle two large rectangles of plywood several inches off the ground and carve out one hole at the top of each team's game board. The goal of each round is to sink as many sandbags as possible into your opponent's target. Paint the corn hole set to match your wedding's colors and theme!
DANCE CHALLENGE
Helping a wedding table bond is not always simple. Add a little competition to the mix by challenging each table to rush the dance floor when a particular song plays throughout the night. The best show of silliness or grace wins the dance competition at the end of the evening.
WEDDING PINATA
Choose an elegant—or completely silly—pinata to shake things up during the dessert hour. Blindfold the groom and bride to see who can break through the pinata to release all the goodies inside. Be sure to include bags or small to-go boxes for all the kids to gather their treasure.
LAWN BOWLING
In a flat area of your outdoor venue space, tape out a bowling "lane" of sorts for an outdoor bowling tournament. Use large wooden pins that can stand up in the grass and choose a wooden or plastic bowling ball to keep things playful. If your guests are a competitive bunch, include a scorecard to keep track during the game.
SPIN THE WHEEL
Buy or construct your own wedding prize wheel to get guests involved in the spontaneous energy of the day. Write a different prize or instruction on each part of the wheel.
PHOTO SCAVENGER HUNT
If you're encouraging guests to snap memories throughout the night, include a list of fun possible moments from the day. Include things like "silly dance moves" or "the bride and groom sneaking a kiss." This helps guests from different groups get to know each other while adding a fun level of competitiveness to the night.
---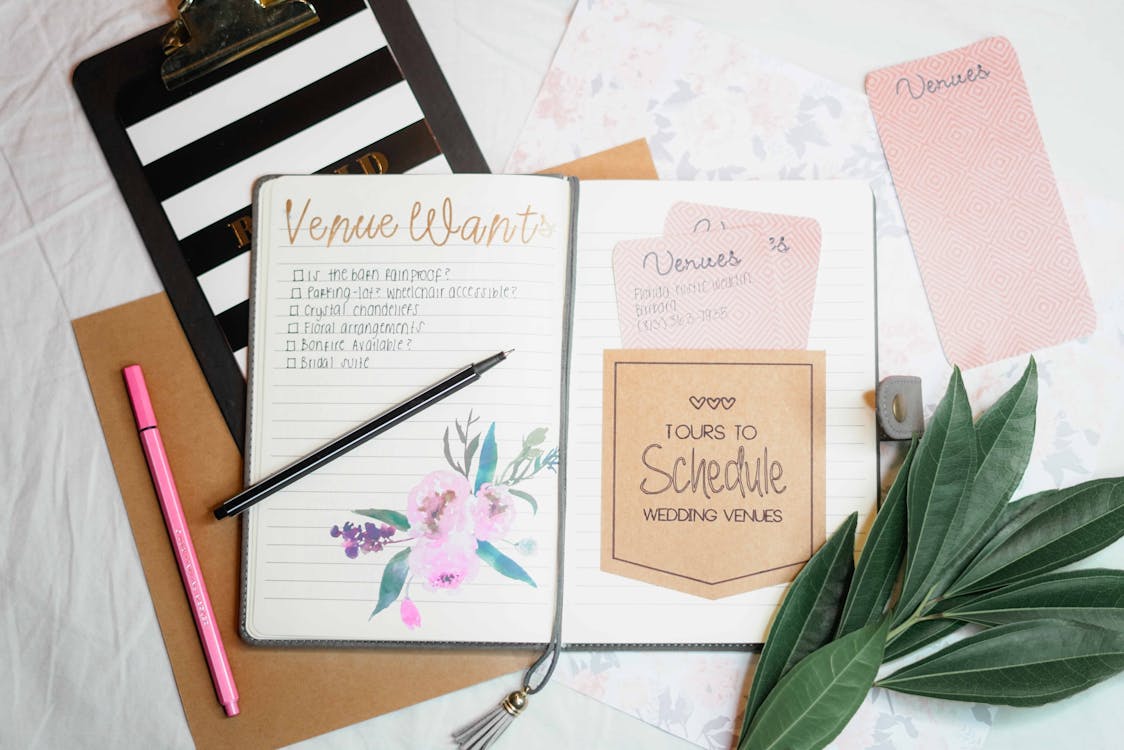 If you're having difficulties pulling your look together and the ideas you have for your wedding style are overflowing your mind and your Pinterest board, this is the product for you. If you are questioning things like what table linens you should rent, what color palette to use or how to turn all of these ideas into a cohesive style.. you are not alone and help is here!
Turn your wedding ideas into a polished and cohesive look
Get support from a team of wedding professionals at your fingertips when you get stuck
Get ideas on how to make your wedding "so YOU" so you can plan the best wedding EVER!
How it works: After you purchase The Chaos Coordinator's Wedding Planning Box, we will email you a Wedding Questionnaire that will help us learn more about your style preferences as well as connect us to your Pinterest Board. Once you've submitted it, we will set up a phone call to chat in more detail. We then get to work designing your wedding style + personalized wedding planning steps while you relax! Once we are done we will ship your custom wedding plan right to your door and link you into our digital platform where you can make changes and plan on the go.
---
HAPPY PLANNING FROM YOUR CHAOS COORDINATORS!
ARE YOU IN?
Subscribe to our newsletter and find out first about New Wedding Styles, Seasonal Sales, DIY Wedding Tips and Planning Posts.

You'll get notified first anytime we have a sale on our Wedding Planning Box or when we giveaway free copies of our upcoming wedding planning book, The Chaos Coordinators Wedding Planning Book.
We'll only send out a newsletter once a month so you don't feel spammed!