Wedding color schemes are essential for having a picture perfect, fairy-tale day. If you need some help planning your decor, here are 10 wedding color ideas that will bring out the most of your special day!
1. White and Off White
Having a monochromatic color scheme is bold, but it's one of the most memorable wedding color ideas. In terms of dresses, the bride will wear white but the bridesmaids can wear cream to complement her. If you want to add more color, peach and very light pastel pinks are perfect complements. The decorations will be super easy to put together and look so elegant that your guests will be telling all their friends about your original idea.
2. Green
Green may be hard to pull off for bridesmaid dresses, but with so many tones of green, you'll be sure to find something that works. This wedding color idea is perfect for an outdoor wedding or people who are outdoorsy. This is also a great decor plan for a spring wedding that touches on nature themes. You can pair green super easily with white and yellow, so you'll have unlimited options for decorations. Plus, this idea is super unique so you'll know that no one else will have a wedding that's similar to yours.
3. Fuchsia and White
If you want to really make a statement, choosing a color like fuchsia is super bold. This bright color looks great on all skin tones, so dressing your bridesmaids will be effortless! Also, it's a great color for decor because it contrasts well with white. You can line the table with beautiful pink flowers and have other fuchsia accents like napkins and table runners. If you love pink, this is the perfect wedding color plan for you.
4. Lilac
Purple is another color that looks great on basically everyone, so your bridesmaids will look stunning next to you. The lightness of the lilac perfectly complements the white, so your wedding will look super dreamy. You can add other variations of purple and some pastel pinks to the decorations to complete the color palate and you'll have such a beautiful wedding. If you're the bold type, you can even wear a lilac wedding dress and you'll certainly make an impact when you walk down the aisle!.
5. Black And White
Nothing is more classic than black and white and it brings a stunning contrast to your wedding color scheme! It's one of the more traditional wedding color ideas but you can make it as original or as unique as you want! Black is flattering on literally everyone so your bridesmaids will have nothing to complain about when picking dresses. There are so many patterns that can be used with the black and white color scheme so you'll have plenty of ideas for decor.
6. Gold
Nothing makes a bigger statement than gold, so if you want to go all out with your wedding, this is the perfect color for you! Gold is another color that will look great on anyone, so your bridesmaids will be stunning too. You can easily add gold accents to your own wedding day outfit and the decorations will shine almost as bright as you! If you want to make a really bold, you can even wear a gold wedding dress. You can pair gold with other similar metallics like bronze and silver, making it one of the easiest wedding color ideas to pull off.
7. Pastel Pink
Pastel colors are super trendy so if you're a trendsetter, you need to try this wedding color scheme. It's super soft and girly, so it will allow your feminine side to shine. You can pair so many other pastel colors with the pink so you can go all out with the wedding decorations. Pastel pink also looks great with white so your special day will look super dreamy and ethereal. Your guests won't be able to stop talking about how perfect your wedding is if you chose this color idea.
8. Peach and Grey
While this may seem like one of the strangest wedding color ideas, it's actually surprisingly elegant and super original. No one else will have this color scheme at their wedding, making yours truly memorable. The bridesmaids can wear peach, which is incredibly flattering, while the decorations can include both peach and grey. Just make sure you don't choose too somber of a grey, a lighter grey or even silver is the perfect color to make the peach pop.
9. Light Blue
Light blue is one of the more popular wedding color ideas, but it's popular for a reason! Blue photographs spectacularly and looks great on most people. Also, with decor there are endless options. Light blue is good for pairing with other shades of blue as well as other pastel colors like pink and purple. Blue is also a great shade for a beach wedding or an outdoor wedding. Your guests will feel calm at your wedding with this color scheme and because blue contrasts and complements white, all attention will be on you on your big day.
10. Tangerine and Yellow
This is one of the most unexpected wedding color ideas, but it's a truly stunning color combination. Bridesmaids can wear tangerine, which is much more flattering than orange, and the yellow is great accent for decor. The flowers at your wedding will look perfect and vibrant! You can add reds and pinks to make these colors pop even more. This is a great color scheme for a spring or summer wedding and your guests will surely feel cheery with all these bright colors around. Be bold and try this unusual wedding color idea.
---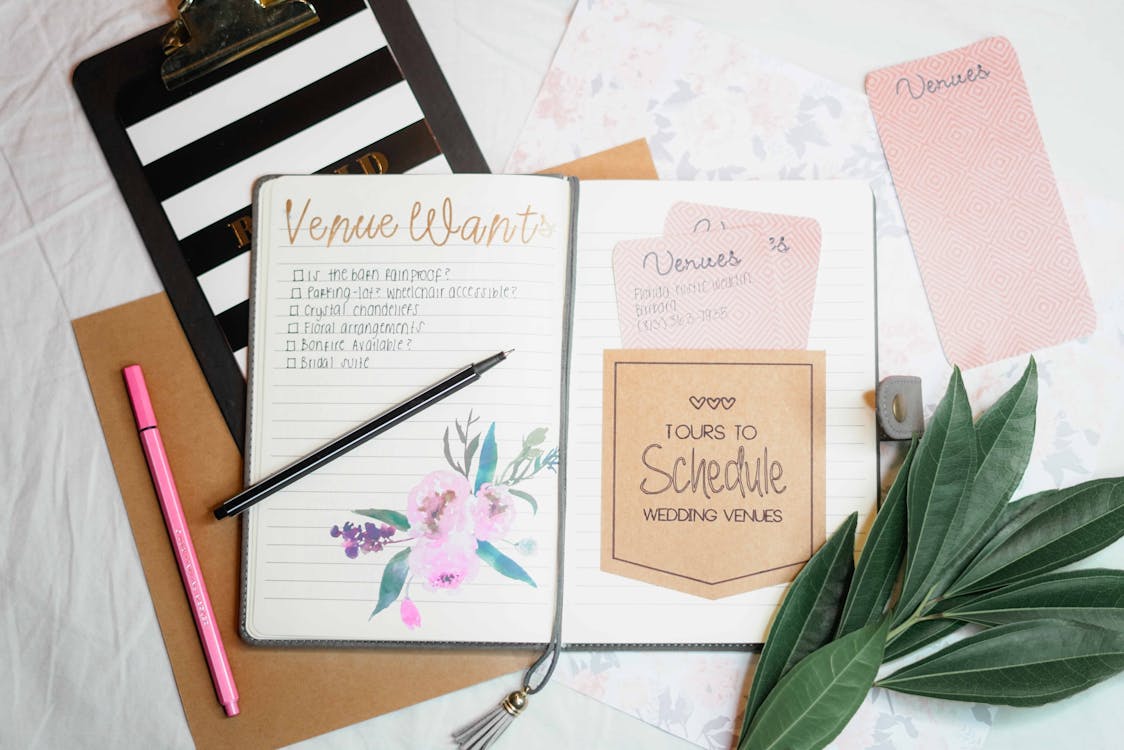 If you're having difficulties pulling your look together and the ideas you have for your wedding style are overflowing your mind and your Pinterest board, this is the product for you. If you are questioning things like what table linens you should rent, what color palette to use or how to turn all of these ideas into a cohesive style.. you are not alone and help is here!
Turn your wedding ideas into a polished and cohesive look
Get support from a team of wedding professionals at your fingertips when you get stuck
Get ideas on how to make your wedding "so YOU" so you can plan the best wedding EVER!
How it works: After you purchase The Chaos Coordinator's Wedding Planning Box, we will email you a Wedding Questionnaire that will help us learn more about your style preferences as well as connect us to your Pinterest Board. Once you've submitted it, we will set up a phone call to chat in more detail. We then get to work designing your wedding style + personalized wedding planning steps while you relax! Once we are done we will ship your custom wedding plan right to your door and link you into our digital platform where you can make changes and plan on the go.
---
HAPPY PLANNING FROM YOUR CHAOS COORDINATORS!
ARE YOU IN?
Subscribe to our newsletter and find out first about New Wedding Styles, Seasonal Sales, DIY Wedding Tips and Planning Posts.

You'll get notified first anytime we have a sale on our Wedding Planning Box or when we giveaway free copies of our upcoming wedding planning book, The Chaos Coordinators Wedding Planning Book.
We'll only send out a newsletter once a month so you don't feel spammed!