If you love arts and crafts and want to add a personal touch to your wedding then we've rounded up some of the best homemade pieces that you can make before the big day. And if, like me, you never did get your head around those Blue Peter craft projects – these are very easy and stress free to construct.
You could make your own vintage inspired ring toss game. First you'll need to collect a bunch of empty bottles, a mix of sizes is good for variety from beer to wine bottles. Or, if you know that you'll be playing this game on a courtyard or another hard surface gather some plastic fizzy drinks bottles instead and later fill them with sand for a bit more stability.
Completely cover each bottle in the school favorite PVA glue using a paintbrush, preferably whilst wearing old clothes, and roll in a tray of glitter. The glitter could be any colour to match your scheme. Leave to dry overnight and coat again in PVA glue to seal the glitter and voila!
If you've got a large wedding venue to decorate indoors, these chandeliers are just what you need to fill a big space and create a warm atmosphere. You only need a few things to make them, a hula hoop, some lace or ribbon that ties in with your colour scheme and some fairy lights, either battery operated or solar if they'll be hung outdoors from trees.
Wrap your fairy lights around the hula hoop and secure them on with some wire (or sandwich bag ties work well too!) and then wrap over the top with your lace or ribbon tightly and hold it in place with a blob of fabric glue or use a glue gun if you've got one handy. You can always add longer pieces of the ribbon so that you can hang your thrifty decorations from barn eaves or to add light to a walkway.
A banner is cute and vintage way to declare anything you like! This charming burlap Mr and Mrs banner is really simple to make and very effective. You could hang it across the front of your top table or high across the ceiling.

This DIY make is perfect for those without the best sewing skills as it only needs a wide running stitch and if you've got a steady hand then skip making the stencils and draw straight on your cut out cloths.
If you're at a bit of a loss for an idea for wedding favours, consider giving guests a homemade bird feeder. It's an eco friendly gift that your loved ones can enjoy after your wedding has ended, after all who doesn't love relaxing for 5 minutes whilst watching the world go by.
Decorating the reception venue with photographs that hold sentimental value for you and your partner can be a lovely way to share your story so far. It could also include beautiful family photographs showing key moments that have helped to shape you are as a person today and display pictures of loved ones who are no longer with you but still have a special place in your heart.
To make your own large photo frame display like the one on the right, you'll need to source a large frame – scour second hand and factory shops for a cheap one and again hang garden twine attached with push pins at the back of the frame for the photos to be pegged onto. The jumble of sizes of photos, different colour pegs and the draped foliage add to its whimsical, mismatched charm.
Onto creating beautiful wedding photos yourself, this blooming marvelous floral backdrop is eye catching and again rather easy to make!
Buy a long piece of dowling that is the size of the space you want to fill, or a long piece of ribbon – but make sure that this is stretched out taut against your wall so that the weight of the flowers don't make it sag in the middle, and using fishing wire thread and a large needle thread through carnation heads. Carnations are especially good as they won't turn brown and come in a rainbow of colours. Leave some space at the end of your length of flower heads for the wire to be tied around the dowling or ribbon and there you have it.
Finally, these confetti holders are cute to look at and can be made using any paper that matches your wedding scheme.
These could be made in an afternoon and are so charming and cheap there's no reason not to! Do bear in mind that some wedding venues only allow bio degradable confetti to be used so check with them before you fill up your holders. Just as lovely though are dried rose petals which come in a variety of colours and can be bulk bought for a good price.
---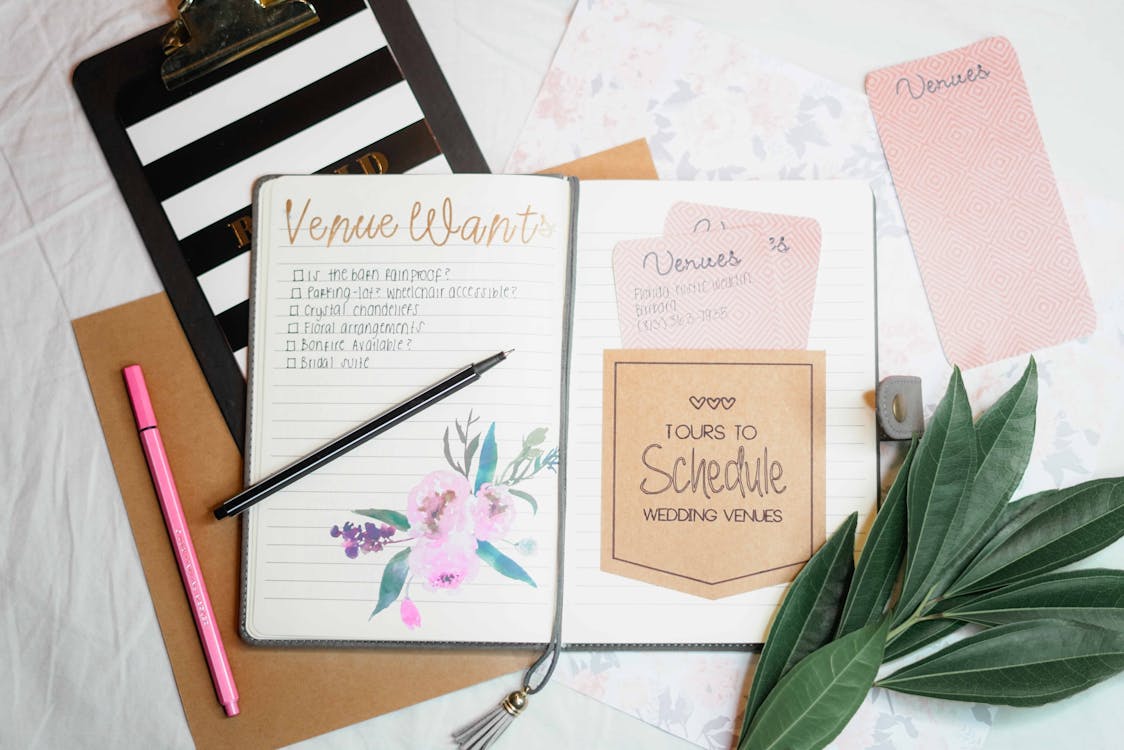 If you're having difficulties pulling your look together and the ideas you have for your wedding style are overflowing your mind and your Pinterest board, this is the product for you. If you are questioning things like what table linens you should rent, what color palette to use or how to turn all of these ideas into a cohesive style.. you are not alone and help is here!
Turn your wedding ideas into a polished and cohesive look
Get support from a team of wedding professionals at your fingertips when you get stuck
Get ideas on how to make your wedding "so YOU" so you can plan the best wedding EVER!
How it works: After you purchase The Chaos Coordinator's Wedding Planning Box, we will email you a Wedding Questionnaire that will help us learn more about your style preferences as well as connect us to your Pinterest Board. Once you've submitted it, we will set up a phone call to chat in more detail. We then get to work designing your wedding style + personalized wedding planning steps while you relax! Once we are done we will ship your custom wedding plan right to your door and link you into our digital platform where you can make changes and plan on the go.

---
HAPPY PLANNING FROM YOUR CHAOS COORDINATORS!
ARE YOU IN?
Subscribe to our newsletter and find out first about New Wedding Styles, Seasonal Sales, DIY Wedding Tips and Planning Posts.

You'll get notified first anytime we have a sale on our Wedding Planning Box or when we giveaway free copies of our upcoming wedding planning book, The Chaos Coordinators Wedding Planning Book.
We'll only send out a newsletter once a month so you don't feel spammed!