We're sharing everything you could possibly need to know about that little piece of fabric that nestling in a suit (or waistcoat) pocket can elevate a Groom's look from dull to dapper!
The concept of a pocket square is a little weird, and probably the last thing you're thinking about when planning the big day. You may even ask yourself how on earth could a functionally useless piece of fabric nested inside a pocket be considered "style"?
Well we'll just start right out and say that yes, while there may be no definitive "utility" involved in wearing a pocket square, not everything needs to be about function, especially on this day of celebration.
For some men, pocket squares are still, understandably, regarded as foreign territory. Often times, men who don't don pocket squares either feel that doing so would draw too much attention to their outfit, or simply haven't considered including them in their style arsenal yet (because of the whole lack-of-function thing).
But your wedding day is perhaps the most dapper you'll ever be dressed. Such an occasion calls for a little extra formality, and the devil really is in the details. No, in this case, it's all about style–and that's exactly what adding a pocket square to your ensemble will do for you!
Now before you go looking for the perfect pocket square for your wedding day look, you should know a few basic pocket square rules. Here are the most important things to keep in mind:
1. Usually we're staunchly against the matching tie and pocket square look. Rather, it should complement a color found on your tie, or contrast your tie altogether. However, we'll make an exception for wedding parties due to their coordinating nature, and sometimes matching is acceptable. A simple pattern in the same color can help you avoid the full monochrome look.
2. No matter which fold you choose, make sure that the resulting look doesn't get bulky–you want to avoid pocket bulge. Your jacket pocket should still sit relatively flat against your jacket.
Most of these folds are designed in such a way that this problem doesn't arise, but if you have a particularly thick pocket square (or a smaller-than-average pocket), just keep on experimenting with folds until you find one that works.
3. Pocket squares are perfect for your entire party. Consider letting each groomsmen show some personality with a pocket square of their choosing. As long as it's in the dominant color scheme of the rest of your accessories, you'll still look cohesive.
4. Your fold should match your mood first, and the formality of your wedding second. Sure, some folds are more formal than others, but honestly, a pocket square is a dressy accessory by nature, no matter how you scrunch it up. Whether your ceremony is seaside or in a grand ballroom, the subtle touch won't feel out of place.
If you decide on pocket squares for the whole wedding party, make sure everyone is in agreement about which fold to go with. The three-point fold is great for black tie attire, while the presidential fold is better with a blazer look.
5. And don't be afraid to wear a pocket square as a guest! There is no rule that says pocket squares are for the wedding party only, so if you're serious about style, consider wearing a pocket square to every wedding. Wear a square and tie to all formal affairs, and opt for a blazer and square (sans tie) for your more casual celebrations.
Pocket squares are little pieces of fabric that speak volumes. We'll be honest, you might not be the first person people want to see on your wedding day (that would be the lovely lady in the white dress) but as the groom, you are a close second.
A little pop of color or pattern nestled inside your jacket pocket is a sign of sophistication, and also serves as an instant improvement to whatever you're wearing. So reach for a square and start experimenting with colors, patterns, and folds until you find something that resonates with you and the rest of your wedding party.
Be sure to check out 12 of the most popular ways to fold your pocket square over on Ties – I don't think you can beat the The Presidential!
---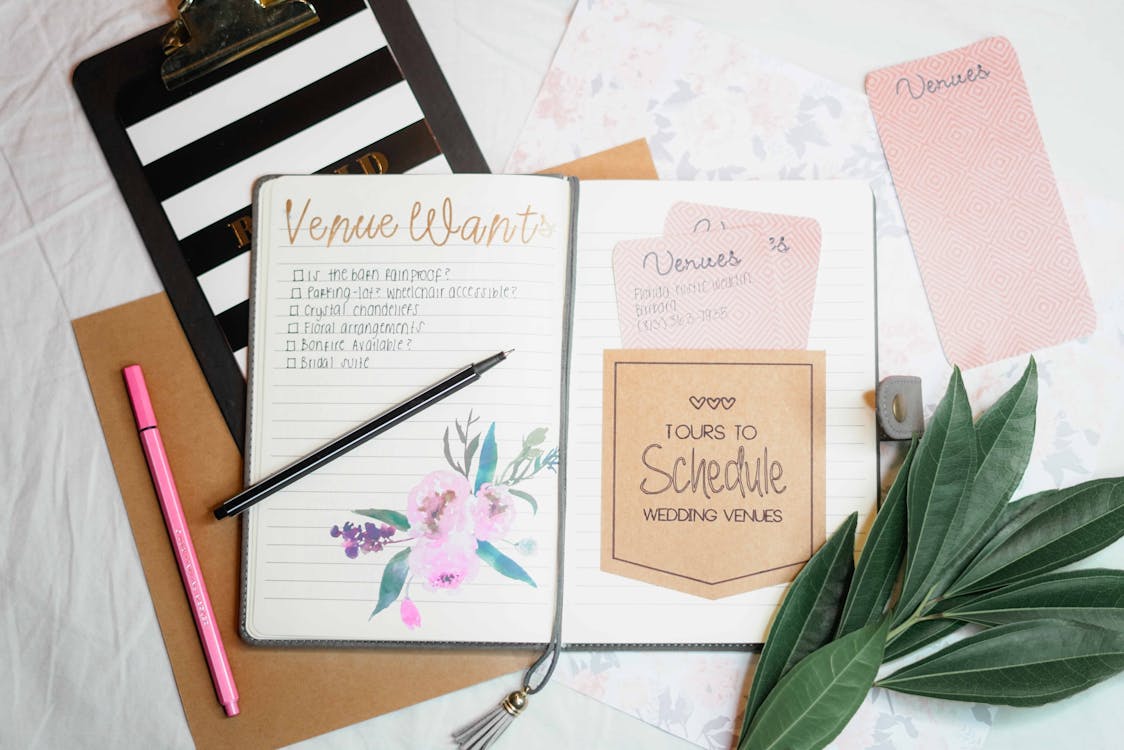 If you're having difficulties pulling your look together and the ideas you have for your wedding style are overflowing your mind and your Pinterest board, this is the product for you. If you are questioning things like what table linens you should rent, what color palette to use or how to turn all of these ideas into a cohesive style.. you are not alone and help is here!
Turn your wedding ideas into a polished and cohesive look
Get support from a team of wedding professionals at your fingertips when you get stuck
Get ideas on how to make your wedding "so YOU" so you can plan the best wedding EVER!
How it works: After you purchase The Chaos Coordinator's Wedding Planning Box, we will email you a Wedding Questionnaire that will help us learn more about your style preferences as well as connect us to your Pinterest Board. Once you've submitted it, we will set up a phone call to chat in more detail. We then get to work designing your wedding style + personalized wedding planning steps while you relax! Once we are done we will ship your custom wedding plan right to your door and link you into our digital platform where you can make changes and plan on the go.
---
HAPPY PLANNING FROM YOUR CHAOS COORDINATORS!
ARE YOU IN?
Subscribe to our newsletter and find out first about New Wedding Styles, Seasonal Sales, DIY Wedding Tips and Planning Posts.

You'll get notified first anytime we have a sale on our Wedding Planning Box or when we giveaway free copies of our upcoming wedding planning book, The Chaos Coordinators Wedding Planning Book.
We'll only send out a newsletter once a month so you don't feel spammed!