1. Create your timeline by working backwards from your ceremony.

Start with your ceremony time. Let your selected wedding photographer know what time the ceremony will begin so that they can work with you to schedule the timing of your photo session appropriately. They will be able to suggest the best time for photographs in terms of lighting, and guide you as to how long the photo session will take.
If you plan on doing a first look before the ceremony you'll need to be sure that you book your hair and make up appointments early enough to accommodate your first look. Let your hair stylist and make-up artist know your schedule so that they can best determine the best time for your appointments and aren't rushed.
2. Include sufficient travel time to AND BETWEEN locations.
In additional to planning transport time for arrival at your ceremony, you'll need to address travel time between ceremony and reception locations with your transportation provider if your reception is to be held at a separate venue.
If you plan on taking photographs at a location outside of your venue, you'll need to build in additional travel time for this, too.
3. Don't overlook scheduling time to eat during the day!
This is not the day to skip a meal! Make sure to schedule a time to eat in your wedding day timeline for both the morning and midday.
Consider ordering the food in advance to be delivered to where you will be.
4. Create a vendor timeline.

The best way to organize everyone involved in making your wedding day special is to create a wedding day timeline for all involved. Keep your vendors on the same page with a vendor timeline.
5. Share your finalized timeline with MOH.
Share a day-of schedule with your bridal party (or even invite them to collaborate on the day-of timeline with you), so that they are aware of the events taking place the day of your wedding.
Provide your bridal party with the important times, including when they need to be ready for pictures. Enter their scheduled beauty appointments into the timeline as well in order to keep track of every detail.
6. BONUS TIP: Confirm Your Venue's Closing Time!

Most venues have a closing time by when your wedding reception has to end (yes, sad, we know). If you think you won't have enough time to let loose, you can often (though not always) extend the party into overtime to continue the fun. This is something you need to discuss in advance with your venue.
Once you have an idea of when the festivities will end, you can schedule your ride home transportation accordingly.
With a solid timeline, your big day will be neither too rushed nor too slow-moving, but just right.
---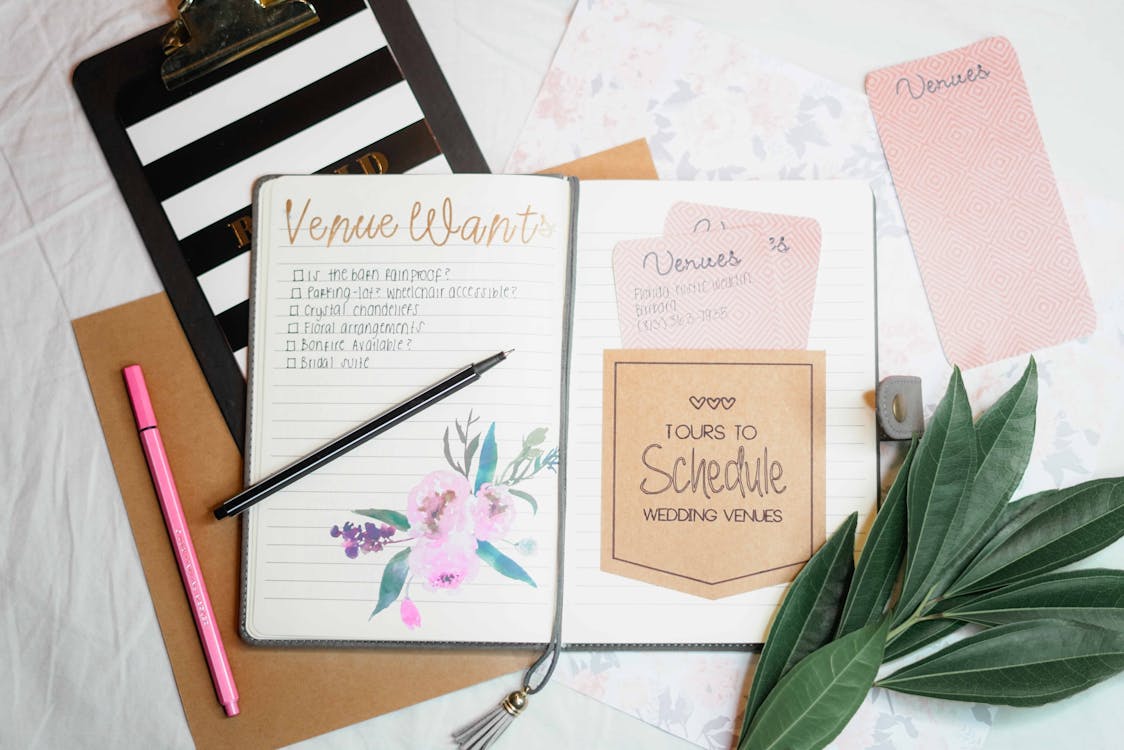 If you're having difficulties pulling your look together and the ideas you have for your wedding style are overflowing your mind and your Pinterest board, this is the product for you. If you are questioning things like what table linens you should rent, what color palette to use or how to turn all of these ideas into a cohesive style.. you are not alone and help is here!
Turn your wedding ideas into a polished and cohesive look
Get support from a team of wedding professionals at your fingertips when you get stuck
Get ideas on how to make your wedding "so YOU" so you can plan the best wedding EVER!
How it works: After you purchase The Chaos Coordinator's Wedding Planning Box, we will email you a Wedding Questionnaire that will help us learn more about your style preferences as well as connect us to your Pinterest Board. Once you've submitted it, we will set up a phone call to chat in more detail. We then get to work designing your wedding style + personalized wedding planning steps while you relax! Once we are done we will ship your custom wedding plan right to your door and link you into our digital platform where you can make changes and plan on the go.
---
HAPPY PLANNING FROM YOUR CHAOS COORDINATORS!
ARE YOU IN?
Subscribe to our newsletter and find out first about New Wedding Styles, Seasonal Sales, DIY Wedding Tips and Planning Posts.

You'll get notified first anytime we have a sale on our Wedding Planning Box or when we giveaway free copies of our upcoming wedding planning book, The Chaos Coordinators Wedding Planning Book.
We'll only send out a newsletter once a month so you don't feel spammed!