After the excitement of your brand new fiance status and all the bliss that comes with being engaged settles, the time to begin planning your wedding arrives. It's easy for a newly-engaged couple to feel confused and overwhelmed about where to start. Luckily, that's where we come in!
In addition to providing loads of step-by-step wedding planning advice and resources, these wedding planning tips will take you through 21 of the most common wedding planning mistakes couples make – and provide expert advice on just how to avoid them!
1.Not Establishing A Wedding Budget FIRST
This is one of the most essential wedding planning tips! You need to set your wedding costs before you do anything else. It's the first thing planners will ask you because it's pretty much impossible to effectively plan your wedding without knowing how much money you have to spend.
2.Not Working Out Your Guest List Right After Setting Your Budget
Every guest essentially costs you money. They need a chair, food and drinks – and all which cost money. Inviting 200 people to your wedding when your budget doesn't match up means either cutting the guest list or compromising on something else. Neither of these options are great. So before sending out invites, take a breath and choose carefully. Your guest list will also affect decisions such as the size of your venue and the catering price per head. You'll need your guest list numbers before contacting decor and hiring vendors, too.

3.Overlooking Unplanned or Hidden Cost Items
Couples often get caught up in the obvious costs of venue, food, entertainment, clothing and decor. But it can be easy to overlook additional smaller costs, which in total can make quite a large impact on your bottom line. Allow space in your budget for unplanned expenses. For example, you may end up staying late at your reception venue.
Overtime costs for wedding venue staff, postage for invitations, hiring of additional 'fancy' chairs to upgrade your ceremony look, lighting, tents, and transport costs for moving between venues are just a few items that add up quickly! Be sure to work through the costs thoroughly, or budget an additional 2 – 5 percent for these unforeseen costs.

4.Not planning for "fun" or "impulse" items in your budget

Chances are that you will reach a point in your wedding planning journey where you come across something so beautiful, so unique, so 'YOU' that you just cannot envision your special day without it. This might be something for your guests to enjoy, a pancake station, a beautiful bridal accessory, or a photographer just out of your current budget. While not essential, it's nice to have padded a little extra into the budget.
5.Not Asking Service Providers For Contactable References or failing to check Facebook and Yelp reviews
Asking for a list of contactable clients is something which we encourage all couples to do. You should ask vendors questions about past work. In addition to references, another of the important wedding planning tips is to determine a vendor's level of experience. How long have they been in the industry? How many weddings similar to yours have they worked on? This will help you to determine if their level of experience meets your expectations.
6.Not Having A Wedding Day Timeline
Often brides are disappointed after their wedding day by not having had time to meet their guests or to enjoy their canapés. Enlist the services of a wedding planner to help you with this. In many cases your photographer will also provide a timeline indicating when they would like to photograph certain elements of the wedding. Consider using this as a starting point. Have a mapped out plan of your day, to ensure that you get to enjoy it.

7.Not Knowing When and How Vendors Wish to Receive Payment
Each vendor requires payment in a different way, at different times, during the planning process. Some want a partial advance, others need to be paid in cash on the day of. Determining how each vendor wishes to receive their payments should be addressed early on rather than at the last minute. No bride wants to be surprised by the financials, especially in the days leading up to the wedding! Important questions to ask include determining if the vendor will accept cheque or cash only. Ask: Is final payment due the day before the wedding or on the day of the wedding?' 'Who does the payment go to?' These are the planning details that need to be ironed out in advance.

8.Having Too Many Bridesmaids and Groomsmen
Having a small budget and nine bridesmaids is just asking for trouble. It is a personal choice, but asking too many people to be apart of your bridal party is not always a good idea. Your friends will understand that they can't all be picked to stand up next to you. If your group is set to become unmanageably large, consider having a maid of honor and/or best man only, or dare to forgo a bridal party altogether!

9.Planning Extensive DIY For An Out-of-Town Wedding
You and your bridesmaids have zero time on the day to hang handmade items and glue doilies to glass jars. Add your personal touch, we want you to do that, but remember how much time things take and that your providers are there to help you with everything. Let us hire in those jars for you instead of sending your poor groom with an extra 'fragile' bag through the airport.

10.Trusting Your Instagramming BF or Cousin To Be Your Wedding Photographer
Your friend may take 'the best Instagram photos' and your cousin may have 'the best camera'. We get it! However, this does not, on any level, qualify them to take photos of your wedding. You can't exactly redo your first kiss. Let your friends hashtag away, but let the professional capture the real moments. We suggest you spend some time looking at wedding photographers' websites and investing in this worthwhile element: Photos are the only thing that last once the cake is gone and the dress is in the cupboard.

11.Skimping On the Wrong Things To Splurge In Other, Less Critical, Areas
Let's be honest, money is one of the biggest issues when planning a wedding. If you have enough of it , great, but if you're on a budget , as most of us are, it can cause unnecessary stress for a couple. Choose wisely where you spend, and on what you save: For example, it's wiser to save on things like lawn games, guest gifts and pre – drinks decorations, than cutting costs on things like a photographer, make-up artist or food.

12.Going Along With Traditions That Have No Meaning To You, Just Because…?
In many ways, your wedding is like your 'official introduction to the world' as a couple. It should reflect your lifestyle choices, quirks and things that make you unique as a couple. If you don't feel comfortable with having a bouquet toss, skip it. You, don't have to do it. The same goes for things like cake cutting or a garter toss. You have the opportunity to make new traditions. Embrace it. Wedding planning tip: There is no longer a set recipe as to what should be in a wedding or how a wedding should look. Plus, if you are true to your style and personality, everything will be a lot easier than trying to be something that you're not! This is one of our fave wedding planning tips.

13.Turning Into a Bridal Doormat in Fear of Becoming a Bridezilla
It's yourself and your spouse-to-be's special day. Put yourselves first. Make time for yourself to enjoy the day. Appoint someone you trust – a bridesmaid, maid of honor, friend or mom – who can deal with the little fussy questions from the suppliers or guests on the day. In fact, it's not just on the day that you need to do this, but from the early planning phases of your wedding. And when it comes to dealing with the opinions of friends and family here's some additional advice: Try to handle criticism and opinions from family members gracefully, but firmly. Make them understand that it's your wedding, not theirs. Yes, it's okay to put yourselves first just this once.
14.Forgetting to Look After Your Mental and Physical Health
Wedding planning can be stressful, and take its toll both on you and your relationship. An essential wedding planning tip is to make sure that you plan for regular exercise (cardio is great), get enough sleep, eat nutritious food and find stress management techniques like meditation to help you cope with the wedding planning roller coaster. Look after yourself and don't fall victim to crash dieting either! Your body – and your dress maker – will thank you for it.

15.Asking For Custom Quotes Without Giving An Indication Of The General Budget
You might be nervous to include an indication of budget in fear that unscrupulous vendors might overcharge you. What you might not realize is that by including a budget your vendor has the chance to provide suitable alternate options, should the original design not fit within your price range. If you have done your research correctly, you should be able to find a vendor who can create the type of look you are after, while also trying to accommodate your budget. Within reason!
16.Taking Your Whole #squad With To Your Dress Fittings For Their Opinions
It really isn't a good idea, especially if you are indecisive by nature. Many different opinions can make you more confused. And it only takes one loved one to make a stupid nasty comment about something you love to throw you into a downward spiral of emotions.
17.Wanting An Exact Replica Of a Floral Arrangement Or Dress You Saw Someone Else Rock On Pinterest
Firstly, most designers won't be excited at the prospect of copying someone else's work. If you want an exact copy of a dress then you should have that designer make it. The same holds true for flowers; while Pinterest images can be great for setting the tone or vision for your day, try not to fixate on any specifics. Pictures of floral arrangements can often contain out-of-season or imported flowers. Trust your florist to interpret your look using their knowledge and experience. They can source the best local and seasonal flowers. Let your designer bring their own creative flair to create something beautiful in line with your unique vision.

18.Underestimating the Time, Skill and Practice Required To Execute DIY Projects Successfully
Depending on the size of your wedding, the setting up or even placing of already created DIY projects can take all day. The last thing you want to be doing is puffing red faced down the aisle, because the arranging and setup took longer than you thought. This is also one of many important wedding planning tips for DIY flowers. DIY articles don't tell you how long it will take to do your own flowers. While we love DIY flowers, we agree that it's much better to go the simple or single bloom route for DIY flowers, and build in a few practice runs! Or trust a professional for more complex arrangements.

19.Not Considering the Venue Style When Planning Decor and Florals
When you book your venue, take the style of your venue into account – especially the colour and design of certain fixed elements such as carpets, wall colour and curtains. These could clash with your planned colour scheme or style. Placing an arrangement that looked beautiful in a barn from a picture on Pinterest inside a Victorian style banquet hall might not work. It creates a discord, even on a subtle level. Make sure you that explain the setting to your florist or decor designer when asking for quotes.
20.Not Thinking About the Comfort and Height Of Your Wedding Shoes
Comfort is essential! You are literally going to be on your feet for the most part of 8 – 12 hours. That's more than a whole working day and if you are used to a sitting desk job your feet will get tired even in sneakers. Don't make the mistake of waiting until a month before your wedding to go shoe shopping. Remember, if you're getting married in winter the chances are good that only autumn/winter shoes will be in stores, not pretty summer sandals.

21.Over-Planning
It is really easy to fall into the trap of trying to create the perfect day and over planning. You can certainly do a lot to make sure that your day unfolds the way that you want it to, but there are a few things that you just can't control. Start with the most important things and go with the flow. Relax on the day and soak up every moment – that's a truly perfect day!
---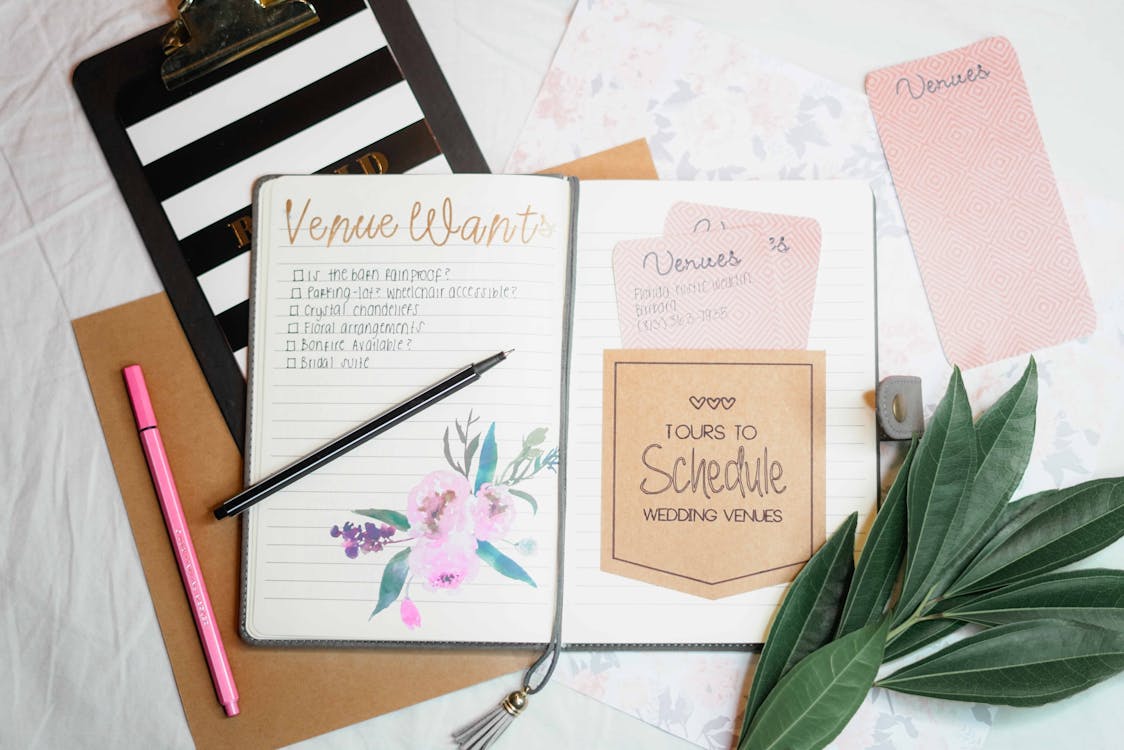 If you're having difficulties pulling your look together and the ideas you have for your wedding style are overflowing your mind and your Pinterest board, this is the product for you. If you are questioning things like what table linens you should rent, what color palette to use or how to turn all of these ideas into a cohesive style.. you are not alone and help is here!
Turn your wedding ideas into a polished and cohesive look
Get support from a team of wedding professionals at your fingertips when you get stuck
Get ideas on how to make your wedding "so YOU" so you can plan the best wedding EVER!
How it works: After you purchase The Chaos Coordinator's Wedding Planning Box, we will email you a Wedding Questionnaire that will help us learn more about your style preferences as well as connect us to your Pinterest Board. Once you've submitted it, we will set up a phone call to chat in more detail. We then get to work designing your wedding style + personalized wedding planning steps while you relax! Once we are done we will ship your custom wedding plan right to your door and link you into our digital platform where you can make changes and plan on the go.
---
HAPPY PLANNING FROM YOUR CHAOS COORDINATORS!
ARE YOU IN?
Subscribe to our newsletter and find out first about New Wedding Styles, Seasonal Sales, DIY Wedding Tips and Planning Posts.

You'll get notified first anytime we have a sale on our Wedding Planning Box or when we giveaway free copies of our upcoming wedding planning book, The Chaos Coordinators Wedding Planning Book.
We'll only send out a newsletter once a month so you don't feel spammed!