Do you all remember this wedding and the crazy good backdrop that created quite the internet commotion? Stunning and totally DIY if you can believe it. Well we stalked the Bride and her awesomely talented designer friend, Katie M Kulper and begged them to spill the beans on making that beauty. And they soooo delivered. Katie teamed up with Allie Rae Photography to bring you this DIY Wax Paper Backdrop.
So go ahead and pin it, rave about it, add it to your favorites folder and then make it. Your wedding ceremony will thank you.
---
What I love about this backdrop is it's simplicity. The light and airy quality is impactful yet doesn't take attention away from the bride and groom. With little more than string, ribbon and paper, you can create a backdrop of any size to suit any venue. The cost of materials is minimal and the time it takes can be greatly reduced by getting a few nimble fingered friends together.
DIY Wax Paper Backdrop
---
MATERIALS
10+ yards of ribbon
size 10 crochet string
tapestry needle, scissors
1 1/2 boxes of interfolded waxed deli sheets
match stick
STEP 1- Fold waxed paper sheet in half to form a square and cut out circle shape.
STEP 2- Cut circle in half and set aside. Cut crochet string to desired length and tie a slip knot on one end.
STEP 3- Fold half-circle into cone shape by turning the corners in towards each other so that they overlap. Secure cone shape by stitching in and out of where the paper overlaps.
STEP 4- Fill length of string with cones, leaving about a finger's width of space between each cone.
STEP 5- Prepare the ribbon by trimming a clean angled end. To keep end from fraying and unraveling, lightly singe the ribbon's edge. Thread the ribbon through the slip knot loops.
STEP 6- Synch down slip knots to hold cone strands in place. Leave about a finger's width between each strand.
STEP 7- Trim away the tails of the slip knots.
STEP 8- Continue to repeat this process until length of ribbon is full.
---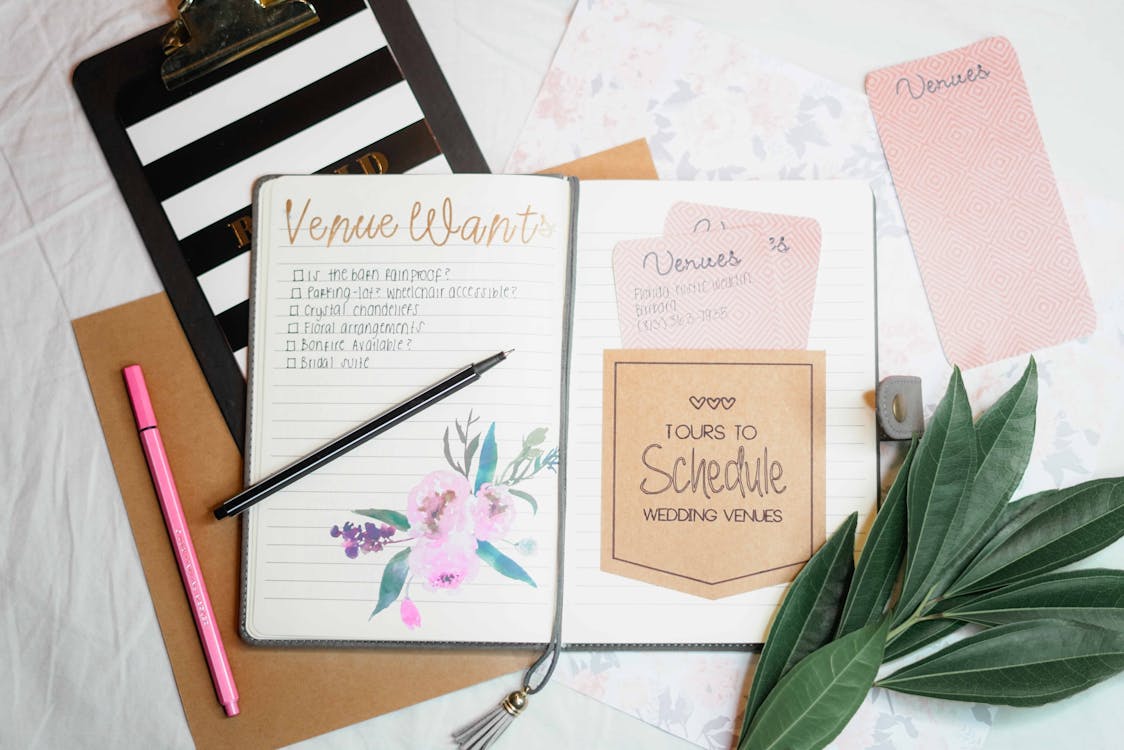 If you're having difficulties pulling your look together and the ideas you have for your wedding style are overflowing your mind and your Pinterest board, this is the product for you. If you are questioning things like what table linens you should rent, what color palette to use or how to turn all of these ideas into a cohesive style.. you are not alone and help is here!
Turn your wedding ideas into a polished and cohesive look
Get support from a team of wedding professionals at your fingertips when you get stuck
Get ideas on how to make your wedding "so YOU" so you can plan the best wedding EVER!
How it works: After you purchase The Chaos Coordinator's Wedding Planning Box, we will email you a Wedding Questionnaire that will help us learn more about your style preferences as well as connect us to your Pinterest Board. Once you've submitted it, we will set up a phone call to chat in more detail. We then get to work designing your wedding style + personalized wedding planning steps while you relax! Once we are done we will ship your custom wedding plan right to your door and link you into our digital platform where you can make changes and plan on the go.
---
HAPPY PLANNING FROM YOUR CHAOS COORDINATORS!
ARE YOU IN?
Subscribe to our newsletter and find out first about New Wedding Styles, Seasonal Sales, DIY Wedding Tips and Planning Posts.

You'll get notified first anytime we have a sale on our Wedding Planning Box or when we giveaway free copies of our upcoming wedding planning book, The Chaos Coordinators Wedding Planning Book.
We'll only send out a newsletter once a month so you don't feel spammed!